| The Lord of the Rings - Gollum | Street Fighter 6 | Diablo IV |
| --- | --- | --- |
| | | |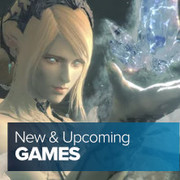 Find release dates, trailers, and scores for major upcoming and recent videogame releases for all platforms, updated weekly.
1.

Resident Evil 4

SURVIVAL IS JUST THE BEGINNING... Resident Evil 4 is a remake of the 2005 original Resident Evil 4. Reimagined for 2023 to bring state-of-the-art survival horror. Resident Evil 4 preserves the essence of the original game, while introducing modernized gameplay, a reimagined storyline, and vividly detailed graphics to make this the latest survival horror game where life and death, terror and catharsis intersect. STORY: 6 years have passed since the biological disaster in Raccoon City. Leon S. Kennedy, one of the survivors of the incident, has been recruited as an agent reporting directly to the president of the United States. With the experience of multiple missions on his back, Leon is sent to rescue the president's kidnapped daughter. He tracks her to a secluded European village, where there is something terribly wrong with the villagers. And the curtain rises on this story of daring rescue and grueling horror.

2.

Street Fighter 6

Powered by Capcom's proprietary RE ENGINE, the Street Fighter 6 experience spans across three distinct game modes featuring World Tour, Fighting Ground and Battle Hub. Diverse Roster of 18 Fighters. Play legendary masters and new fan favorites like Ryu, Chun-Li, Luke, Jamie, Kimberly and more in this latest edition with each character featuring striking new redesigns and exhilarating cinematic specials. Street Fighter 6 offers a highly evolved combat system with three control types - Classic, Modern and Dynamic - allowing you to quickly play to your skill level. The new Real Time Commentary Feature adds all the hype of a competitive match as well as easy-to-understand explanations about your gameplay. The Drive Gauge is a new system to manage your resources. Use it wisely in order to claim victory.

3.

After Us

Play as Gaia, the Spirit of Life, and navigate stunning platforming environments in an abstract world to salvage the souls of extinct animals. Revive these creatures after learning their final fate: the last whale harpooned, the final eagle caged, the last deer hunted down, and more, while you survive encounters with dangerous, oil-covered Devourers that roam the wasteland in search of remaining life. In this emotional journey from the creators of the critically acclaimed Arise: A Simple Story, you alone can restore life to the planet.

4.

SIFU

Sifu is the story of a young Kung Fu student on a path of revenge, hunting for the murderers of his family. One against all, he has no allies, and countless enemies. He has to rely on his unique mastery of Kung Fu as well as a mysterious pendant to prevail, and preserve his family's legacy. The hunt for your enemies will take you through the hidden corners of the city, from the gang-ridden suburbs to the cold hallways of the corporate towers. You have got one day, and countless enemies on your way. For every mistake, time will be the price to pay. Careful positioning and clever use of the environment to your advantage are key to your survival. Use everything at your disposal: throwable objects, makeshift weapons, windows and ledges... The odds are stacked against you, and you will be offered no mercy. Kung Fu is mastery through practice, a path for both the body and the mind. Learn from your errors, unlock unique skills, and find the strength within yourself to master the devastating techniques of Pak-Mei Kung-Fu.

5.

Monster Hunter Rise: Sunbreak

Monster Hunter Rise: Sunbreak is an expansion to the original Monster Hunter Rise. Featuring improved gameplay and nimble-feeling additions to combat mechanics, unique new monsters and hunting locales, and a new difficulty level in the form of Master Rank quests. As the hunter who saved Kamura from calamity, you must now journey to the far-off reaches of Elgado, an outpost near a Kingdom beset by a sinister new nemesis -- the elder dragon Malzeno!

6.

DREDGE

Dredge is a fishing adventure with a sinister undercurrent. Sell your catch, upgrade your vessel and dredge the depths for long-buried relics. Explore the stories of the strange locals and discover why some things are best left forgotten. Someone wants very badly to retrieve relics lost to the ocean floor. The work is lucrative, but can you trust them? What will they use the relics for? And will they ever be satisfied? It's not just the sharp rocks and shallow reefs you need to watch out for - keep your eyes on the depths below and the sky above. The biggest threat to your safety might come from within.

7.

Star Wars Jedi: Survivor

Star Wars Jedi: Survivor picks up five years after the events of Star Wars Jedi: Fallen Order. Cal must stay one step ahead of the Empire's constant pursuit as he continues to feel the weight of being one of the last remaining Jedi in the galaxy. Developed by the veteran team at Respawn Entertainment, Jedi: Survivor will expand upon iconic Star Wars stories, worlds, and characters, and thrilling combat first experienced in Jedi: Fallen Order.

8.

MLB The Show 23

MLB® The Show™ 23 gets you closer than ever to living your Baseball dreams on the diamond. Shock The Game and Own The Show™ with your favorite players, your favorite rivalries, and all your favorite MLB® moments.

9.

Tin Hearts

Behind every brilliant invention, hides a magical story. Guide a troop of tin soldiers through a magical toy-filled world, in this immersive narrative puzzle adventure game from members of the team that brought you Fable.

10.

GhostWire: Tokyo

Save a Tokyo under siege by spirits in a new adventure from mastermind Shinji Mikami and the team at Tango Gameworks. Explore the streets of a city filled with spirits and mysterious otherworldly threats, with an arsenal of powerful abilities at your command. Tokyo has become a city under siege; overwhelmed by paranormal threats beyond our understanding. After a devastating occult event leads to the disappearance of 99% of the city's population, only you stand between the loss of this great city and its salvation. After the vanishing, a strange encounter causes your own supernatural abilities to take shape. Explore a beautiful city that blends ultra-modern cityscapes and stunning ancient shrines as you purge the darkness from your home. Armed with a bevy of formidable, upgradeable powers, you will face off against evil spirits (referred to as The Visitors) haunting the city of Tokyo. Spirits like: * Amewarashi: This entity manifests as a young child in a yellow raincoat. Derived from the powerful emotions of sadness caused by being separated from his parents, as well as his innocent yet mischievous spirit, this Visitor will call for help and bring forth fellow spirit when it feels threatened. * Shiromuku: Shiromuku is a traditional type of pure white wedding kimono, and though she may appear to be a bride, this Visitor is actually a physical manifestation of powerful emotions. This Visitor represents regret and strong feelings for a partner she was never able to marry. * Kuchisake: Inspired by an actual urban legend, the Kuchisake-onna is a strong and agile opponent, capable of closing distances quickly to get at you with her large scissor blades. Be careful if she asks you if you find her attractive; there are no right answers there. Each spirit will have its own attack styles and weaknesses, so you'll need to combine your abilities in different ways to suit each unique combat encounter. But the spirits roaming the streets aren't the only threat. At the heart of everything the disappearance of the population, the appearance of the Visitors, and even your own supernatural abilities sits a shadowy group wearing "Hannya" masks. Who are they, what they want and how they will interact with you remains a mystery, and it will be up to you to determine their motives and unveil the mystery.