| Resident Evil Village | Balan Wonderworld | MotoGP 21 |
| --- | --- | --- |
| | | |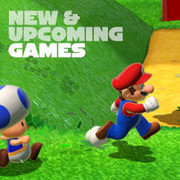 Find release dates, trailers, and scores for major upcoming and recent videogame releases for all platforms, updated weekly.
1.

It Takes Two

From Hazelight comes It Takes Two an innovative co-op adventure where uniquely varied gameplay and emotional storytelling intertwine in a fantastical journey. Founded to push the creative boundaries of what's possible in games, Hazelight is the award-winning studio behind the critically acclaimed A Way Out and Brothers: A Tale of Two Sons. Something out of the ordinary Bring your favorite co-op partner and together step into the shoes of May and Cody. As the couple is going through a divorce, through unknown means their minds are transported into two dolls which their daughter, Rose, made to represent them. Now they must reluctantly find a way to get back into their bodies, a quest which takes them through the most wild, unexpected and fantastical journey imaginable.

2.

Tony Hawk's Pro Skater 1 + 2

Drop back in with the most iconic skateboarding games ever made. Play Tony Hawk's Pro Skater & Tony Hawk's Pro Skater 2 in one epic collection, rebuilt from the ground up in incredible HD. All the pro skaters, levels and tricks are back and fully-remastered, plus more.

3.

Before I Forget

A woman alone in a house. A mystery and a love story. Explore the present to uncover the past, in a short story of love and loss and a life well-lived. A narrative exploration that examines a world where memories are constantly fading and jumbled. A game about dementia and what happens when you can't hold onto the things you've done or the people you've loved. "Is this the right place?...What did I come out here for?" A plaintive theme on the piano. A tattered 2-year-old calendar. The taste of stale air. A woman is in her house, alone, and her mind holds a mystery... You are Sunita - a woman living with early onset dementia. As you wander from room to room, you discover mysterious objects, each holding a fleeting, fragmented memory. Examine faded postcards, scribbled notes, photographs, and more to uncover Sunita's past, piece together her life-story, and understand her present. Before I Forget is a story-rich, first-person exploration game from 3-Fold Games. Delicate, moving, and atmospheric, it examines the emotional impact of dementia.

4.

Judgment

From the makers of the acclaimed Yakuza series, Ryu Ga Gotoku Studio, Judgment is the dramatic tale of a disgraced lawyer seeking redemption in a world rife with corruption and despair. Investigate the seedy Red Light District of Kamurocho by stepping into the mind of private detective Takayuki Yagami and utilize innovative investigation systems to uncover the secrets that lie deep within Kamurocho's corrupt underbelly. Experience visceral combat with two unique combat styles. Take down groups of thugs with sweeping blows in Crane Style, then switch to Tiger to overwhelm a single foe with a series of powerful strikes. Practice mixing-and-matching styles in combat in conjunction with a wide variety of skills, weapons, and powerful (and hilarious) EX Actions to unlock a whole new dimension in combat.

5.

Crash Bandicoot 4: It's About Time

It's About Time - for a brand-wumping new Crash Bandicoot game! Crash fourward into a time shattered adventure with your favorite marsupials. Neo Cortex and N. Tropy are back at it again and launching an all-out assault on not just this universe, but the entire multiverse! Crash and Coco are here to save the day by reuniting the four Quantum Masks and bending the rules of reality. New abilities? Check. More playable characters? Yep. Alternate dimensions? Obviously. Ridonkulous bosses? For sure. Same awesome sauce? You bet your sweet jorts. Wait, are they actually jorts? Not in this universe!

6.

MLB The Show 21

Be a 2-way star. For the first time, take your Ball Player from Road To The Show and use him in other game modes. Now your Ball Player can be a 2-way star. Enjoy Franchise improvements and updates to March To October which empower you to better make decisions on the future of your club. Live content now streamlines programs to provide clearer goals, faster paths to rewards based on how you play, and welcomes a new class of Legends to build your dream squad. New to MLB The Show this year is gameplay styles alongside new gameplay onboarding tutorials to expand gameplay for all playstyles and skill levels. Casual: An easier, fun, pick-up and play experience with an emphasis on learning the game. Simulation: Authentic MLB experience that plays true to player and team ratings. A balance between stick skills and player attributes. Competitive: User stick skills reign supreme, greater emphasis on user input over player ratings. Our new online H2H default.

7.

Samurai Shodown

SAMURAI SHODOWN has enjoyed worldwide success as a blade-wielding fighting game series since its first release in 1993. 11 years have passed since the last series installment, and it is now time for SAMURAI SHODOWN to return in a brand-new game featuring high-end visuals and gameplay! Faithfully reproducing the game mechanics and atmosphere that contributed to the success of the series, SAMURAI SHODOWN includes a revolutionary feature that learns from players game actions and patterns in order to create CPU-controlled "ghost" characters. With a story set one year before the very first installment, a diverse cast of returning and new characters cross paths in order to fulfill their destinies! * SAMURAI SHODOWN is faithful to the series' roots by delivering the same tense and exhilarating battles that it has always been known for. * Using the power of UNREAL® ENGINE 4 the series is able to achieve a level of detail and graphical quality like never before. * Using revolutionary Deep Learning AI, the game will learn from player tactics and create Ghost characters which players around the globe can share and fight against.

8.

MotoGP 21

Discover all the official rosters and tracks and experience the thrill of the 2021 Season. And if you want to dive into the past, you can relive the MotoGP™ history with more than 40 riders and their iconic bikes. Take critical decisions and find a winning strategy to take over the Championship! Create your crew, choosing between official teams or a new one. Pick your staff, choosing your Personal Manager, a Chief Engineer, and a Data Analyst who will help you to make crucial choices such as the best contract to get and the bike development. Reach the MotoGP™ or Moto2™ class and assemble your very own Junior team. How you ride your bike will directly affect the tires wear. Worn tires make it more difficult to handle the bike. Manage it cautiously. Forget automatic respawns. If you fall, you must get up and get back on your bike as fast as possible. Never lose control. Customize helmet, suit, stickers, racing number, and livery with 5 incredible Graphic Editors! Once you're done, share* your designs online or try on some of your fellow player's creations. *You can share helmet, racing number and rider stickers. Just like the real riders, you'll have to play by the rules of the official championship or you'll face the consequences, including, for the first time, the Long Lap Penalty. Enjoy the most authentic MotoGP™ experience.

9.

Outriders

Outriders is a 1-3 player co-op RPG shooter set in an original, dark and desperate sci-fi universe. As mankind bleeds out in the trenches of Enoch, you'll create your own Outrider and embark on a journey across the hostile planet. With rich storytelling spanning a diverse world, you'll leave behind the slums and shanty towns of the First City and traverse forests, mountains and desert in the pursuit of a mysterious signal. Combining intense gunplay with violent powers and an arsenal of increasingly twisted weaponry and gear-sets, Outriders offers countless hours of gameplay from one of the finest shooter developers in the industry People Can Fly.

10.

Monster Truck Championship

From Las Vegas to Orlando, go head-to-head against experienced drivers in drag races and freestyle competitions! But before you can pull off doughnuts, wheelies and bicycles, you must first tune your truck to perfection. These machines are colossal and spectacular yet highly technical to drive. The game faithfully reproduces all the unique demands of mastering these powerful trucks, including independent front and rear wheel management, mass transfer anticipation in bends, and predicting bounces after jumps. But what's performance without style? Customise your monster truck to reflect your style and show it off to your 7 opponents in online mode.