| Evil Dead: The Game | SILT | Sniper Elite 5 |
| --- | --- | --- |
| | | |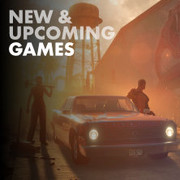 Find release dates, trailers, and scores for major upcoming and recent videogame releases for all platforms, updated weekly.
1.

The Stanley Parable: Ultra Deluxe

The Stanley Parable: Ultra Deluxe is an expanded re-imagining of 2013's The Stanley Parable. You will play as Stanley, and you will not play as Stanley. You will make a choice, and you will become powerless. You are not here to win. The Stanley Parable is a game that plays you.

2.

Rogue Legacy 2

Rogue Legacy 2 is what you'd get if you mashed Rogue Legacy and a sequel together. Every time you die, your children will succeed you, and each child is unique. Your daughter might be a Colourblind Archer, and your son could be a Pacifistic Chef. Either way, one of them is getting conscripted.

3.

Citizen Sleeper

Live the life of an escaped worker, washed-up on a lawless station at the edge of an interstellar society. Inspired by the flexibility and freedom of Tabletop RPGs, explore the station, choose your friends, escape your past and change your future. LIFE ON ERLIN'S EYE An abandoned station on the edge of a system in crisis. Run down, chaotic, unruly, and alive—it was founded by idealists in the shadow of a corporate collapse. Now it is held together by anarchic alliances, ramshackle factions and a shared desire to be free from the gravity of corporate control. DO THE WORK. GET PAID. SURVIVE. Every cycle you get up and choose what to do with your time. Toil in the yards, or take a bar shift. Search the markets for rare components or grab some street food. Make or break alliances, uncover truths and escape those that hunt you. Learn to survive and ultimately thrive, one cycle at a time. TURN UP FOR YOUR FRIENDS The station plays host to characters from all walks of life, trying to eke out an existence among the stars. Salvagers, engineers, hackers, bartenders, street-food vendors, each has a history which brought them here. You choose which of them you wish to help, and together you will shape your future. ACCESS THEIR SECRETS Hack into the station's cloud to access decades of digital data, uncover new areas and unlock secrets. This is your unique power, and with it you can change your future. Corporate secrets, rogue AIs and troves of lost data await those willing to dive into the depths of the station's networks. YOU WERE MADE TO DIE Essen-Arp: to them you are just property, one more asset in a portfolio that stretches across the stars. You are the product of an abusive system, in a universe where humanity's expansion is marked by exploitation and extraction. Escape the makers of your decaying body, and chart your own path in a richly imagined, deeply relevant sci-fi world which explores ideas of precarity, personhood and freedom.

4.

Crusader Kings III: Console Edition

Paradox Development Studio brings you the sequel to one of the most popular strategy games ever made. Crusader Kings III is the heir to a long legacy of historical grand strategy experiences and arrives with a host of new ways to ensure the success of your royal house.

5.

The Quarry

As the sun sets on the last day of summer camp, the teenage counselors of Hackett's Quarry throw a party to celebrate. No kids. No adults. No rules. Things quickly take a turn for the worse. Hunted by blood-drenched locals and something far more sinister, the teens' party plans unravel into an unpredictable night of horror. Friendly banter and flirtations give way to life-or-death decisions, as relationships build or break under the strain of unimaginable choices. Play as each of the nine camp counselors in a thrilling cinematic tale, where every decision shapes your unique story from a tangled web of possibilities. Any character can be the star of the showor die before daylight comes. How will your story unfold? YOUR STORY, THEIR FATE Will you dare to check what's behind that trap door? Will you investigate the screams echoing from within the forest? Will you save your friends or desperately run for your life? Every choice, big or small, shapes your story and determines who lives to tell the tale. A STUNNING CINEMATIC EXPERIENCE Cutting edge facial capture and filmic lighting techniques, combined with incredible performances from an iconic ensemble cast of Hollywood talent, bring the horrors of Hackett's Quarry to life in a pulse-pounding, cinematic thrill ride. ENJOY THE FRIGHT WITH FRIENDS Place your faith in up to 7 friends in online play, where invited players watch along and vote on key decisions, creating a story shaped by the whole group! Or, play together in a party horror couch co-op experience where each player picks a counselor and controls their actions. CUSTOMIZE YOUR EXPERIENCE Adjustable difficulty for all gameplay elements let players of any skill level enjoy the horror. And if you prefer to watch rather than play, Movie Mode lets you enjoy The Quarry as a binge-worthy cinematic thriller. Select how you want the story to unfold, kick back, and munch on some popcorn in between all the screams! STARRING: David Arquette as Chris Ariel Winter as Abigail Brenda Song as Kaitlyn Evan Evagora as Nick Halston Sage as Emma Justice Smith as Ryan Miles Robbins as Dylan Siobhan Williams as Laura Skyler Gisondo as Max Zach Tinker as Jacob Ethan Suplee as Bobby Grace Zabriskie as Eliza Lance Henriksen as Jedediah Lin Shaye as Constance Ted Raimi as Travis

6.

LEGO Star Wars: The Skywalker Saga

LEGO Star Wars: The Skywalker Saga will feature hundreds of playable characters - the most ever for a LEGO Star Wars game - and ships, LEGO's signature sense of humour and fun, and new innovations, options, and gameplay features. Players can start the game at any point in the Star Wars timeline; fans can jump in with Star Wars: The Phantom Menace, begin the original trilogy with Star Wars: A New Hope, or launch right into Star Wars: The Rise of Skywalker. LEGO Star Wars: The Skywalker Saga marks the return to the franchise that kicked off the LEGO video game series. The game will give fans an all-new LEGO Star Wars experience with complete freedom to explore the LEGO Star Wars galaxy. With the Skywalker saga coming to an end, LEGO Star Wars: The Skywalker Saga will bring to life all those Star Wars adventures remembered and undiscovered in an epic culmination of all nine saga films as fans celebrate the closing of this chapter in Star Wars.

7.

MotoGP 22

Explore all the contents of the 2022 season in the MotoGP™ classes and in all the other categories. More than 120 riders, over 20 official circuits and all the excitement of the official championship are waiting for you. And if you want to take a leap into the past, over 70 historic champions will let you relive the best of MotoGP™ history.

8.

Floppy Knights

Hey there, humans. It's me, Carlton! Phoebe's most trusted friend... and coolest arm, if I do say so myself. Now, who's Phoebe, you ask? She's a talented inventor and programmer with a taste for the finer things in life and prefers to work smarter, not harder. Her mission: save up enough cash to finally move outta her parents' place. That's where I come in! Phoebe created me, her bionic arm and best friend, to help her achieve her goals. Not only am I brilliant, handsome, and funny, but I've also got a neat trick up my sleeve - I can take regular old floppy disks and turn them into these handy-dandy projections we call "Floppy Knights!" They're super useful for just about any task especially when it's time to throw down on the battlefield. With the help of our new buddies, the occasional odd job has turned into a steady side hustle... but things are getting a bit more intense than we bargained for! Bigger and badder monsters keep popping up and now Phoebe's not so sure about this whole "hero" role... but I'm getting ahead of myself. Let's chat about all the sweet stuff you'll get to do in the game!

9.

MLB The Show 22

Diamond Dynasty is back. Play, collect, and build on your fantasy card collection and bring to life on the diamond*. Try the new Mini Seasons mode, where each season brings new challenges as you face off against a new set of competition. Create and use multiple Ballplayers, beyond your Road to the Show personalized Baseball RPG experience, and customize your Ballplayers exactly how you want to aid in your progression. Face your friends with cross-platform play**. With cross progression, continue your progress and earn and use content on other console platforms. Stepping up to the plate for the first time? Tailor your experience with gameplay styles and two new difficulty settings to help you get the hang of the basics. Play March to October in your style, with updated mode tools to utilize custom uniforms, logos, and created stadiums. Live out your dream Baseball matchups with new Legends joining the diamond.

10.

Road 96

Summer 1996. Today is the day! You hit the road. Adventure. Freedom. Escape. Run. Flee the Regime. Try to survive. On this risky road trip to the border, you'll meet incredible characters, and discover their intertwined stories and secrets in an ever-evolving adventure. But every mile opens up a choice to make. Your decisions will change your adventure, change the people you meet, maybe even change the world. There are thousands of roads across the authoritarian nation of Petria. Which one will you take?