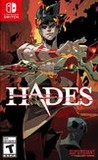 Summary:

Defy the god of the dead as you hack and slash out of the Underworld in this rogue-like dungeon crawler from the creators of Bastion, Transistor, and Pyre. Hades is a god-like rogue-like dungeon crawler that combines the best aspects of Supergiant's critically acclaimed titles, including the

Defy the god of the dead as you hack and slash out of the Underworld in this rogue-like dungeon crawler from the creators of Bastion, Transistor, and Pyre. Hades is a god-like rogue-like dungeon crawler that combines the best aspects of Supergiant's critically acclaimed titles, including the fast-paced action of Bastion, the rich atmosphere and depth of Transistor, and the character-driven storytelling of Pyre.

BATTLE OUT OF HELL

As the immortal Prince of the Underworld, you'll wield the powers and mythic weapons of Olympus to break free from the clutches of the god of the dead himself, while growing stronger and unraveling more of the story with each unique escape attempt.

UNLEASH THE FURY OF OLYMPUS

The Olympians have your back! Meet Zeus, Athena, Poseidon, and many more, and choose from their dozens of powerful Boons that enhance your abilities. There are thousands of viable character builds to discover as you go.

BEFRIEND GODS, GHOSTS, AND MONSTERS

A fully-voiced cast of colorful, larger-than-life characters is waiting to meet you! Grow your relationships with them, and experience thousands of unique story events as you learn about what's really at stake for this big, dysfunctional family.

BUILT FOR REPLAYABILITY

New surprises await each time you delve into the ever-shifting Underworld, whose guardian bosses will remember you. Use the powerful Mirror of Night to grow permanently stronger, and give yourself a leg up the next time you run away from home.

NOTHING IS IMPOSSIBLE

Permanent upgrades mean you don't have to be a god yourself to experience the exciting combat and gripping story. Though, if you happen to be one, crank up the challenge and get ready for some white-knuckle action that will put your well-practiced skills to the test.

SIGNATURE SUPERGIANT STYLE

The rich, atmospheric presentation and unique melding of gameplay and narrative that's been core to Supergiant's games is here in full force: spectacular hand-painted environments and a blood-pumping original score bring the Underworld to life.


…

Expand
Developer:

Supergiant Games

Genre(s):

Action Adventure

,

General

,

Linear

# of players:

No Online Multiplayer

Cheats:

On GameFAQs

Rating:

T
Please enter your birth date to watch this video:
You are not allowed to view this material at this time.
Hades - Official v1.0 Launch Trailer
I mean it when I say that I think Hades is Supergiant's best game yet. When I'm not playing it I find myself itching to go play it, and despite my usual lack of patience with games like this I have yet to find myself succumbing to anything even remotely resembling frustration. I am not done putting hours into Hades, not by a long shot, and as somebody who is not usually a fan of this genre I really do think that says something. Add to this yet another incredible soundtrack for Supergiant's catalogue and some of the best character designs these mythological figures have ever seen, and Hades is seriously a game that you should not miss. If you like the genre, this is an absolute must buy, and if you don't it may still be worth it to give Hades a look.

It's genre-defining - a benchmark for so many parts of the roguelike genre. The amount of time Hades spent in early access, tinkering with the game until it was released indicates to me that this is almost the best the concept could ever get.

Hades, with its fast-paced and occasionally unforgiving death mechanics, possibly isn't a game for everyone. However, with its decently low price point and wonderful artwork and story, in combination with the amazingly well designed mechanics, Hades is a gem that's hard to pass up.

To put it simply: Hades is Supergiant's best work to date and one of the best games of 2020. Top level gameplay, story, design, art, and soundtrack come together to form the most addictive roguelite ever. You can escape from the Underworld, but not from this game.

Hades is no less than an absolute masterpiece, easily a contender for Supergiant's finest work yet, and a candidate for the year's best game. It delivers truly classic action in almost every sense of the word, has the perfect level of difficulty, looks breathtaking and has a unique take on Greek mythology that hits just the right tone, always finding a way to keep you coming back for more, always playing to see what's next. It's the stuff of legends and everyone involved should be proud of what they've made.

An exemplary roguelike incentives and broadens its intrinsic repetition. An ideal narrative adventure paces its characters and their conflicts across a finite timeline. Hades is a vantage point engineered to view a singular setting of both perspectives. Whichever side you ultimately settle on, Hades is a capable ascent from the dregs of genre stagnation.

A hell of a good roguelike, supported by a surprisingly strong narrative that provides just as much motivation to persevere as the excellent combat system.
Best rogue-lite on switch and probably game of the year for me. Incredible gameplay, great story and dialogue, and it still manages to

Best rogue-lite on switch and probably game of the year for me. Incredible gameplay, great story and dialogue, and it still manages to surprise you with changes well into completing the game for the first time.

…

Expand

In so few cases does narrative shine through in a roguelike/roguelite, but Supergiant have absolutely nailed it with Hades, each death (and

In so few cases does narrative shine through in a roguelike/roguelite, but Supergiant have absolutely nailed it with Hades, each death (and you will die, a lot) allows you to bring forward resources to increase your survivability, having the cast of characters about the house of Hades comment on your last run and how you met your grizzly end makes the world feel lived in and quickly gives insight to who these people are, pair that with frenetic fast paced combat, game changing divine boons that synergise in all kinds of weird and wonderful ways, a charming cast of characters bought to life by a stellar voice cast and you're on to another Supergiant classic.

I've put countless hours into this while in early access on PC, I'm so happy to have it on the switch so I can bring it on the go with me.

Best of the Genre since The Binding of Isaac.

…

Expand

WOW!

Ilm playing Hades for a more than a month... almost 170 runs... The more I play, the more I'm impressed... the game still renewed itselfWOW!

Ilm playing Hades for a more than a month... almost 170 runs...
The more I play, the more I'm impressed... the game still renewed itself every 6-8 runs... the dialogues seems to be infinite...

There is only love of gaming in this one. Pure love ! This is no game, this is a piece of art. So beautiful, so deep, so everything...

I cant understand why this came is sold at this price... îll pay twice what it costed to me for this quality of gaming!

Wow again!

…

Expand

I'm really enjoying playing some Mario Sunshine ☀️ but what really blew me away last night was playing Hades!

Let me first say, I'm really not a huge fan of roguelikes, Too often I find them repetitive, boring, and often frustrating. Hades is

Let me first say, I'm really not a huge fan of roguelikes, Too often I find them repetitive, boring, and often frustrating. Hades is repetitive and sometimes frustrating, but fair and never, ever boring. It has a great learning curve that is challenging and rewarding; yes, it is difficult, but with practice you'll find yourself getting further and further each time. Death is not a big deal in the Underworld, so when you die, it's merely a chance to talk to everyone and advance their stories before heading back out for another run.

The gameplay is addictive. Every time I die, I can't help but feel that tug of "just one more run" because it's such a joy to play. It's incredibly responsive and never feels cheap. If you die, it's because you were bested by an enemy you need more practice against, not because of some flawed game mechanic. There are many different weapons to choose from, and with each weapon able to take on several different forms, there are a lot of ways to play and styles to master. Because of this, the replayability factor is very high, especially considering the end-game ability to enable certain options that can make the game much, much harder. If you're like me and, through many deaths and dozens of hours of play, suddenly found yourself able to practically waltz out of the Underworld unscathed, turning on enough of these challenges will make sure you find yourself again struggling to best the first boss.

The story keeps you coming back for more, too. Without spoiling anything, suffice to say there is ample reason to continue playing after you have "beaten" the game, because there's still so much more story waiting to happen. Artwork, music, and voice acting are all top-notch and as good as any game I've played. It's one of those games where you can listen to the soundtrack on Spotify and thoroughly enjoy it on its own.

In my opinion, it's the best action game I believe I've ever played. At nearly 60 hours of game time, I'm still finding myself enjoying each and every run with Zagreus trying to escape the Underworld.

…

Expand

Je ne suis pas un habitué/Adepte du genre d'Hades,
Méconnaissant de tout ce qui peut être lié au genre Rogue-like/lite
C'est vierge de toutJe ne suis pas un habitué/Adepte du genre d'Hades,
Méconnaissant de tout ce qui peut être lié au genre Rogue-like/lite
C'est vierge de tout passif/review que je lance Hades sur Switch : c'est une énorme claque, je comprends vite ce qu'il m'attend sur la 50aine d'heure à suivre. à la fin du premier run je n'ai envie que d'une chose, recommencer et tester de nouvelles armes, nouveau pattern.
Ce que je rechercher dans un jeu : la rejouabilité/l'innovation/le renouvellement. à l'intérieur d'un carcan posé, Supergiant arrive à créer la surprise. Que ce soit dans ses dialogues, son gameplay, narration etc etc
Je découvre ce studio indé qui met une belle claque en terme de cohérence à pas mal d'autres opus..
Mon Goty ? peut etre bien de part sa surprise, au pire ce sera un top 5.

mes +
-Un DA chatoyante
-Un Lore qui se mêle parfaitement avec l'histoire
-Gameplay aux **** oignons
-Rejouabilité monstre
-Les dialogues
-la BO, le sound design

mes -
-on voudrait un mode COOP ?

…

Expand

This review contains spoilers

, click expand to view

. This game sucks. I dislike the isometric graphics, the sterile style, and, most important, the f#€ hero can't jump.
He is glued to the ground.
Always.
After 10.000 hours of fun with dead cells this crappy game feels like a journey to the past.
Do not buy this game. Do not even pirate it.
Auf Deutsch: Ein doofes Spiel.

…

Expand