| Digimon Survive | Elden Ring | Capcom Arcade 2nd Stadium |
| --- | --- | --- |
| | | |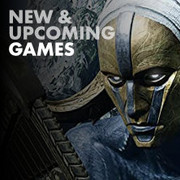 Find release dates, trailers, and scores for major upcoming and recent videogame releases for all platforms, updated weekly.
1.

Cuphead in the Delicious Last Course

Another helping of classic Cuphead action awaits you in Cuphead - The Delicious Last Course! Brothers Cuphead and Mugman are joined by the clever, adventurous Ms. Chalice for a rollicking adventure on a previously undiscovered Inkwell Isle! With the aid of new weapons, magical charms, and Ms. Chalice's unique abilities, players will take on a new cast of fearsome, larger than life bosses to assist the jolly Chef Saltbaker in Cuphead's final challenging quest!

2.

Teenage Mutant Ninja Turtles: Shredder's Revenge

With Bebop and Rocksteady assaulting Channel 6 and stealing super gnarly devices to support Krang and Shredder's latest twisted plan, Teenage Mutant Ninja Turtles: Shredder's Revenge sees the Turtles battling across a righteous range of timeless TMNT locations. From Manhattan and Coney Island, to city rooftops and dank sewers, help the fearsome foursome trounce Foot Soldiers, Triceraton Warriors, and Rock Troops all the way to Dimension X! Enjoy stunning full-color pixel art graphics and a vintage TMNT vibe that will rock you straight back to the awesome 80s. Every character, vehicle, weapon, item, and background is directly inspired by the 1987 TV show, making you feel like you hopped into the television -- with a dope mix of killer humor and action-packed adventures!

3.

AI: The Somnium Files - nirvanA Initiative

Six years ago, the right half of a corpse was discovered under mysterious circumstances. The left half was never found...until six years later, when it was discovered completely fresh with no signs of decay, as though the victim was alive until just recently. Now, newly-appointed Special Agent Mizuki and her AI partner Aiba are tasked to solve the bizarre Half Body serial killings...

4.

Cotton Fantasy

Cotton Fantasy is a brand-new entry in the Cotton series that sees Cotton and Silk embark on another adventure, this time in HD graphics and with modernised gameplay, but true to its roots!

5.

Endling - Extinction is Forever

Will the last mother fox on Earth be able to save its three little cubs? Experience how life would be in a world ravaged by mankind through the eyes of the last fox on Earth in this eco-conscious adventure. Discover the destructive eect of the human race, which corrupts day after day the most precious and needed resources of the natural environments. Explore Endling's 3D side-scrolling world and defend your cubs, three tiny and defenseless fur balls, feed them, see how they grow up level after level, notice their unique personalities and fears, and most importantly, make them survive. Use the cover of night to sneak with your litter towards a safer place. Spend the day resting in an improvised shelter and plan for your next movement carefully since it could be the last one for you or your cubs.

6.

Capcom Fighting Collection

Features 10 classic titles, including two Darkstalkers games never before released in North America! Take on all challengers in online play with rollback netcode for all ten games, and enjoy additional features including a gallery of official art, a music player with hundreds of tracks, and more: Darkstalkers: The Night Warriors Night Warriors: Darkstalkers' Revenge Vampire Savior: The Lord of Vampire Vampire Hunter 2: Darkstalkers' Revenge (Japanese version, first official release in North America) Vampire Savior 2: The Lord of Vampire (Japanese version, first official release in North America) Red Earth (First release outside of arcades) Cyberbots: Fullmetal Madness Super Gem Fighter Mini Mix Super Puzzle Fighter II Turbo Hyper Street Fighter II

7.

Capcom Arcade 2nd Stadium

Included Games: 1943 Kai Black Tiger Block Block Capcom Sports Club Darkstalkers: The Night Warriors Eco Fighters Gan Sumoku (GunSmoke) Hissatsu Buraiken (Avengers) Hyper Dyne Side Arms Hyper Street Fighter II: The Anniversary Edition Knights of the Round Last Duel Magic Sword Mega Man: The Power Battle Mega Man 2: The Power Fighters Night Warriors: Darkstalkers' Revenge Pnickies Rally 2011 LED Storm Saturday Night Slam Masters Savage Bees (Exed Exes) SonSon Street Fighter Street Fighter Alpha: Warriors' Dreams Street Fighter Alpha 2 Street Fighter Alpha 3 Super Gem Fighter Mini Mix Super Puzzle Fighter II Turbo The King of Dragons The Speed Rumbler (Rush & Crash) Three Wonders Tiger Road Vampire Savior: The Lord of Vampire

8.

Pocky & Rocky Reshrined

Pocky the shrine maiden and Rocky the raccoon are back together in the latest game in the long-running classic shooter series! As the evil Black Mantle attacks, Pocky and Rocky need to team up once again, this time with some new friends to take on the upcoming challenges! With 8 stages of high-paced shooting action, you'll have your hands full with creepy enemies, big bosses, and lots of twists and turns!

9.

Metal Max Xeno Reborn

Humanity is on the brink of extinction and the last remaining survivors look to push back against the machines. Half a century ago of war against the mother computer NOA has reduced even Asia's largest metropolis, TOKIO, to rubble. Explore this desolate wasteland and battle your way through onslaughts of enemies. Salvage, modify and hit back using tanks, weaponry and faithful battle dog, Pochi, to reclaim a future for the human race! Set in a devastated world called Dystokio, Metal Max Xeno: Reborn is a nonlinear, open world, JRPG with real-time battle and vehicle combat elements. Take control of Talis and search for other survivors who wish to fight back against the machines of NOA. There are no limits to where you can go, no matter your progression in the game.

10.

Story of Seasons: Pioneers of Olive Town

Inspired by tales of their grandfather's pioneering days, the protagonist decides to pack their bags and leave the hustle and bustle of big city life for the frontier in Olive Town. When they arrive, they run into Victor, the town's mayor and their grandfather's old friend. He brings them to the old farm, which has been reclaimed by nature over the years. Determined to breathe life back into their grandfather's dream and follow in his footsteps, the protagonist rolls up their sleeves and gets to work. Olive Townwhich is just a stone's throw away from the farmis a port town built on the tip of a peninsula. It might be a quiet little town, but it is home to a whole host of unique characters. And while the townsfolk get by well enough in this picturesque seaside locale, a little more tourism never hurt anyone... The long-awaited brand new entry in the original farm/life simulation franchise, known in Japan as Bokujo Monogatari, makes its debut on Nintendo Switch, bringing players more freedom than ever before to shape an untamed wilderness and customize their farm down to the very tile. A new cast of marriage candidates, a town that grows and thrives along with your farm, and a request system highlight the new features, all while retaining the core elements of the STORY OF SEASONS series. Finding Earth Sprites while exploring your farmland may lead you to mysterious, fantastical lands such as gardens where the seasons never change, an island in the sky, or even the inside of a volcano! KEY FEATURES -Cultivate Your Farm, Cultivate Your Town Tame the wilderness of the peninsula and build your farm from the ground up! Gather and process materials to fulfill requests and improve Olive Town's infrastructure, upgrade tools, or commission new outfits and accessories. -Simple Mechanics, Deep Gameplay Greenhorn farmers can rest easy with the return of Seedling Mode and Normal Mode. Veteran players ready to create a bustling farm of their own will find familiar features and facilities with new twists on classic gameplay elements. -A Farm of Endless Possibilities Clear the land, repair old facilities, and place new ones wherever you see fit. Level up your farming skills and craft a variety of decorations and facilities, from fences and automatic feeders for livestock to sprinklers for crops! -There's Always Something Going on in Olive Town! Participate in local festivals as the town comes to life with over 200 unique events! Get to know your neighbors better and you may even find love with a special someone among them.