| King's Bounty II | Sonic Colors: Ultimate | Kena: Bridge of Spirits |
| --- | --- | --- |
| | | |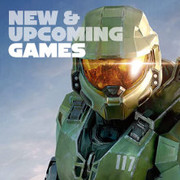 Find release dates, trailers, and scores for major upcoming and recent videogame releases for all platforms, updated weekly.
1.

Synth Riders

Synth Riders is your freestyle dancing VR rhythm alternative. Lose yourself in the incredible music, ride the rails, meet friends in the multiplayer, and become a part of the VR rhythm revolution!

2.

Quake Remastered

The remastered version of Quake is here.

3.

Psychonauts 2

Razputin Aquato, trained acrobat and powerful young psychic, has realized his life long dream of joining the international psychic espionage organization known as the Psychonauts! But these psychic super spies are in trouble. Their leader hasn't been the same since he was kidnapped, and what's worse, there's a mole hiding in headquarters. Raz must use his powers to stop the mole before they execute their secret plan--to bring the murderous psychic villain, Maligula, back from the dead.

4.

Streets of Rage 4: Mr. X Nightmare

The fight continues in Wood Oak City. After the events of Streets of Rage 4, our heroes wanted to prepare themselves for future threats. Axel, Blaze and their mates will start a very special deranged training with the help of Dr. Zan, who built an AI program from the remnants of Mister X's brain that simulates every kind of danger they could be facing. With this new DLC, get ready for: • 3 new playable characters • A new Survival mode with weekly challenges • Character customization: build your own fighting style with new moves • New weapons and enemies!

5.

Flynn: Son of Crimson

Flynn: Son of Crimson is a handcrafted 2D action platformer that will take you on a journey of discovery and redemption.

6.

Life is Strange: True Colors

A bold new era of the award-winning Life is Strange begins, with an all-new playable lead character and a thrilling mystery to solve! Alex Chen has long suppressed her 'curse': the supernatural ability to experience, absorb and manipulate the strong emotions of others, which she sees as blazing, colored auras. When her brother dies in a so-called accident, Alex must embrace her volatile power to find the truth and uncover the dark secrets buried by a small town.

7.

F1 2021

Every story has a beginning in F1 2021, the official videogame of the 2021 FIA Formula One world Championship. Enjoy the stunning new features of F1 2021, including the thrilling story experience 'braking point', two-player career, and get even closer to the grid with 'real-season start'. Take your team to the top in the acclaimed ten-year 'My team' Career mode, or race head-to-head in split-screen and multiplayer. Immerse yourself in the greatest racing spectacle on the planet and race with the authentic lineup of twenty heroic drivers and ten iconic teams from the 2021 Season: 'braking point' - the thrilling new story experience, new ways to play: two-player career and 'real-season start', acclaimed 'My team', split-screen and multiplayer

8.

ISLANDERS: Console Edition

Explore an infinite number of ever-changing new lands, expand your settlements from sprawling villages to vast cities and enjoy the relaxing atmosphere. In ISLANDERS: Console Edition, you begin with a blank canvas and a small set of minimalist buildings. Your goal is to populate and enrich each island with your creations, unlocking new buildings as you go by achieving a maximum score. Points are earned by carefully placing each building, being mindful of their surroundings like providing clear access to natural resources and making sure entry isn't blocked. When you're ready, you can travel to a new land, exploring Islanders' stunning new environments along the way, while building bigger, more expansive structures. The more you build, the higher your score will be and the grander city you'll be able to gaze upon before starting all over again for just one more round.

9.

The Great Ace Attorney Chronicles

With all the fun and drama of the Ace Attorney series set against the backdrop of Victorian-era Britain and Japan, there's sure to be no "Objection!" to the adventures of Ryunosuke Naruhodo as he turns the courtroom upside down. Featuring an intriguing overarching mystery spanning across two games, it promises to be the most engrossing story in the series yet. [Capcom]

10.

OMNO

A single-player journey of discovery through an ancient world of wonders, created by solo developer Jonas Manke.