| Assassin's Creed Valhalla | Call of Duty: Black Ops Cold War | Marvel's Spider-Man: Miles Morales |
| --- | --- | --- |
| | | |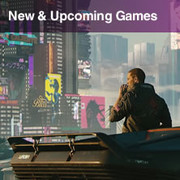 Find release dates, trailers, and scores for major upcoming and recent videogame releases for all platforms, updated weekly.
1.

Tony Hawk's Pro Skater 1 + 2

Drop back in with the most iconic skateboarding games ever made. Play Tony Hawk's Pro Skater & Tony Hawk's Pro Skater 2 in one epic collection, rebuilt from the ground up in incredible HD. All the pro skaters, levels and tricks are back and fully-remastered, plus more.

2.

Spelunky 2

Spelunky 2 builds upon the unique, randomized challenges that made the original a roguelike classic, offering a huge adventure designed to satisfy players old and new. Meet the next generation of explorers as they find themselves on the Moon, searching for treasure and missing family.

3.

13 Sentinels: Aegis Rim

A departure from the studio's traditional fantasy style, the game takes place in a modern setting punctuated with giant mechs. Although the world may be bleak, Vanillaware's signature artistic shine and gorgeous aesthetics will bring the characters and story of 13 Sentinels to life.

4.

Marvel's Spider-Man: Miles Morales

The latest adventure in the Spider-Man universe will build on and expand 'Marvel's Spider-Man' through an all-new story. Players will experience the rise of Miles Morales as he masters new powers to become his own Spider-Man.

5.

Until You Fall

From the team behind I Expect You To Die, this arcade-inspired VR hack-and-slash roguelite will force you to find and master your own fighting style for hours of frantic, kinetic fun. Rokar has fallen. Once a civilization fueled by a magical power called Aether, the Rokari have been destroyed by a Calamity of unknown origins. Now, monsters and twisted spirits wander these crystallized ruins. As the last remaining Rune Knight, you alone can fight back these horrors. With the help of a mysterious Runesmith, you will forge the weapons needed to complete your campaign. Are you the Champion that Rokar needs? Prepare for the fight of your life. Move your arms and body to the synthwave soundtrack as you attack, block, cast spells and dodge your way deeper into the heart of a neon fantasy world filled with magic-infused monsters. Equip yourself with a variety of gameplay-altering weapons as you continue to gain strength and strike down the monstrosities that lurk within Rokar.

6.

The Jackbox Party Pack 7

Five new games: the hit threequel Quiplash 3, the collaborative chaos of The Devils and the Details, the fierce drawing game Champ'd Up, the speech game Talking Points and the guessing game Blather 'Round. Use phones or tablets as controllers and play with up to 8 players, and an audience of 10,000.

7.

Crash Bandicoot 4: It's About Time

The devious villains Neo Cortex and Dr. N. Tropy have finally escaped their interdimensional prison, leaving an evil scientist sized hole in the universe. Now they've got their eyes set on not only simply conquering this dimension, but ALL dimensions, and it's up to Crash and Coco to save the day. N. Sanity Beach is where Crash's adventure first started, and where it begins in Crash 4. But there have definitely been changes since players first saw N. Sanity Beach all those years ago, and throughout Crash 4 you'll notice changes to gameplay and even the art style.

8.

Yakuza: Like a Dragon

RISE LIKE A DRAGON. Become Ichiban Kasuga, a low-ranking yakuza grunt left on the brink of death by the man he trusted most. Take up your legendary bat and get ready to crack some underworld skulls in dynamic RPG combat set against the backdrop of modern-day Japan.

9.

Katamari Damacy REROLL

The stop-at-nothing pushing prince is back and ready to reroll. When the King of All Cosmos accidentally destroys all the stars in the sky, he orders you, his pint-sized princely son, to put the twinkle back in the heavens above. Join the King and Prince of Cosmos on their wacky adventure to restore the stars now in full HD. The beloved roll-em-up game returns with fully updated graphics, completely recreated cutscenes and in full HD.

10.

Sackboy: A Big Adventure

Perilous platforming experience - Explore here, there and everywhere as you utilize sackboy's cool, diverse move-set to face a huge variety of thrilling challenges, fierce enemies and startling surprises. Re-stuffed. Re-stitched. Re-zipped - sack boy returns to the big time stuffed with fresh moves and game-changing gadgets in an awe-inspiring and downright fun 3D adventure in this new, but familiar world.