| Animal Crossing: New Horizons | Pokemon Mystery Dungeon: Rescue Team DX | Good Job! |
| --- | --- | --- |
| | | |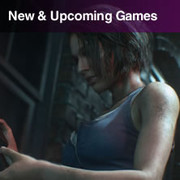 Find release dates, trailers, and scores for major upcoming and recent videogame releases for all platforms, updated weekly.
1.

Animal Crossing: New Horizons

If the hustle and bustle of modern life's got you down, Tom Nook has a new business venture up his sleeve that he knows you'll adore: the Nook Inc. Deserted Island Getaway Package. Sure, you've crossed paths with colorful characters near and far. Had a grand time as one of the city folk. May've even turned over a new leaf and dedicated yourself to public service. But deep down, isn't there a part of you that longs for…freedom? Then perhaps a long walk on the beach of a deserted island, where a rich wealth of untouched nature awaits, is just what the doctor ordered. Peaceful creativity and charm await as you roll up your sleeves and make your new life whatever you want it to be. Collect resources and craft everything from creature comforts to handy tools. Embrace your green thumb as you interact with flowers and trees in new ways. Set up a homestead where the rules of what goes indoors and out no longer apply. Make friends with new arrivals, enjoy the seasons, pole-vault across rivers as you explore, and more.

2.

Florence

At 25, Florence Yeoh feels a little stuck. Her life is an endless routine of work, sleep, and spending too much time on social media. Then one day, she meets a cello player named Krish who changes everything about how she sees the world. Experience every beat of Florence and Krish's relationship through a series of bespoke gameplay vignettes – from flirting to fighting, from helping each other grow to growing apart. Drawing inspiration from 'slice of life' graphic novels and webcomics, Florence is intimate, raw and personal.

3.

Kentucky Route Zero: TV Edition

Kentucky Route Zero is a magical realist adventure game about a secret highway in the caves beneath Kentucky. An antique furniture delivery man trying to make his small shop's last delivery gets lost along the way and meets a haunted TV repairwoman, a young boy and his giant eagle brother, a pair of robot musicians, and dozens of other characters. Together, they explore the nocturnal highways and country roads of Kentucky, the storied Echo River by ferry, and the mysterious Route Zero, the secret highway that runs through Mammoth Cave.

4.

Two Point Hospital

Build up a hospital from nothing to a masterpiece as you design the most beautiful - or functional - healthcare operation in the whole of Two Point County. Optimize your hospital design to increase patient (and cash) flow, arranging corridors, rooms and waiting areas to your exact specifications. Expand your hospital to multiple buildings as you look to get as many patients through the door as possible. Place decorative and functional items around your hospital to improve its prestige, lower patient boredom, increase happiness and keep those end of year awards flowing in.

5.

To the Moon

Dr. Rosalene and Dr. Watts have peculiar jobs: They give people another chance to live, all the way from the very beginning... but only in their patients' heads. Due to the severity of the operation, the new life becomes the last thing the patients remember before drawing their last breath. Thus, the operation is only done to people on their deathbeds, to fulfill what they wish they had done with their lives, but didnt. This particular story follows their attempt to fulfill the dream of an elderly man, Johnny. With each step back in time, a new fragment of Johnny's past is revealed. As the two doctors piece together the puzzled events that spanned a life time, they seek to find out just why the frail old man chose his dying wish to be what it is. And Johnny's last wish is, of course... to go to the moon. * A unique story-driven experience * Innovative mix between adventure game elements and classic RPG aesthetics * Acclaimed original soundtrack that closely ties to the story * An espresso execution with zero filler and no time drains

6.

Thronebreaker: The Witcher Tales

Thronebreaker is a single player role-playing game set in the world of The Witcher that combines narrative-driven exploration with unique puzzles and card battle mechanics. Crafted by the developers responsible for some of the most iconic moments in The Witcher 3: Wild Hunt, the game spins a truly regal tale of Meve, a war-veteran and queen of two Northern Realms Lyria and Rivia. Facing an imminent Nilfgaardian invasion, Meve is forced to once again enter the warpath and set out on a dark journey of destruction and revenge. KEY FEATURES AN ALL NEW EPIC TALE * Experience an all-new 30-hour Witcher world tale with 20 possible world end-states. * Embark on a grand adventure full of thought-provoking quests. * Influence the state of the world around you by making difficult choices and face their consequences. * Meet a cast of rich, multidimensional characters some of them will join you on your quest, others you'll have to face on the battlefield. TRAVEL TO NEVER-BEFORE-SEEN KINGDOMS * Explore new and mysterious regions of the monster-infested world of The Witcher. * Traverse vast lands and unique locations, all with their distinct theme from vibrant countrysides and war-torn landscapes, to grand castles and snow-capped mountains. * Save villages from hordes of monsters, look for treasures hidden among ancient ruins, scour the land for resources, and more the world of Thronebreaker is teeming with things to do. PREPARE FOR WAR * Develop and customize your very own battle camp. * Train and recruit units, unlock new skills and work on your tactics. * Manage resources you find and trade them with local merchants. * Learn more about your companions and increase their strength in battle. LEAD YOUR ARMY IN EPIC BATTLES * Build an army from characters you meet and interact with during your journey. * Fight in epic story battles and solve unique puzzles and challenges. * Use unique skills and abilities of your army and lead it to victory.

7.

Sega Ages: Fantasy Zone

Take command of the spaceship Opa-Opa and blast your way through various fantastical levels as you try to take out all the enemy bases in each stage. Once you've destroyed the bases, you'll have to beat the stage boss in order to move on to the next level. By using your guns and bombs wisely, you'll be able to take down your enemies and explore each of the crazy environments in this side-scroller. You can also buy upgraded weapons for your ship by accessing the shop.

8.

Mega Man Zero / ZX Legacy Collection

Mega Man Zero/ZX Legacy Collection brings together six classic titles in one game: Mega Man Zero 1, 2, 3, and 4, as well as Mega Man ZX and ZX Advent. In addition to the original games, this package includes an artwork gallery, music player, special filters, and much more. Casual Scenario Mode and a Save-Assist feature are available for those who would like to enjoy the story at their own pace. Players can also try their hand at the new leaderboard-based Z Chaser Mode, an exclusive new mode created just for this set of games.

9.

Code:Realize - Guardian of Rebirth

This all happened many, many years ago. The girl searched. Grass withered. The girl searched even harder. Flowers were the next to die. Even so, the girl continued her search. Eventually, the whole land rotted. The girl was a monster -- a lonely monster. This all happened many, many years ago. The poisonous girl who destroyed nature and man alike only sought one thing -- love.

10.

Under Night In-Birth Exe:Late[cl-r]

Cold friends & New under night In-Birth exe: late[cl-r] introduces a brand new character-icyy Fighter londrekia and his frosty new set of moves. Balancing act the new game features new moves and balance adjustments to every character-totalingg roughly 1, 000 improvements. Show your true colors each character will receive five new Color schemes (for a total of 40 new Color schemes), so players can customize their fighters to suit their every Mood.