| Splatoon 3 | Return to Monkey Island | Beacon Pines |
| --- | --- | --- |
| | | |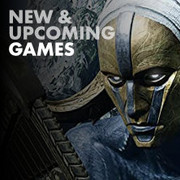 Find release dates, trailers, and scores for major upcoming and recent videogame releases for all platforms, updated weekly.
1.

Tunic

TUNIC is an action adventure game about a tiny fox in a big world where you don't belong. Presented by Finji. Developed by Andrew Shouldice, TUNIC is a game shrouded in mystery and intrigue. Crafted to evoke feelings of classic action adventure games, TUNIC stars a heroic little fox as they explore a foreign land that hides danger around every corner. Discover unique items, new combat techniques, and arcane secrets as our hero forges their way through intriguing new world. Explore a land filled with lost legends, ancient powers, and ferocious monsters in TUNIC, an isometric action game about a small fox on a big adventure. Stranded on a mysterious beach, armed with only your own curiosity, you will confront colossal beasts, collect strange and powerful items, and unravel long-lost secrets. * Explore a hostile and intricately-connected world of shady forests, sprawling ruins, and labyrinthine catacombs * Fight mighty bosses deep beneath the earth, high above the clouds, and in places stranger still * Collect the missing manual pages, bursting with hints and original full-colour illustrations * Discover hidden treasures to help you on your way * Unearth secret relics, secret techniques, secret puzzles, and listen, there's a lot of secrets! * Featuring sound design by Power Up Audio (Celeste, Darkest Dungeon, Subnautica: Below Zero) * And an original soundtrack by Lifeformed (Dustforce, Double Fine Adventure) Keep your wits about you and be brave, little fox!

2.

Xenoblade Chronicles 3

"Fighting to liveand living to fight" - A brand new RPG adventure awaits in Xenoblade Chronicles 3. Bringing together the futures of Xenoblade Chronicles and Xenoblade Chronicles 2, this title will take players to the world of Aionios, home to two hostile nations. Keves: a nation where mechanical technology was developed. Their armies are composed of units consisting mainly of combat vehicles. They use units of small, mobile weapons operated by soldiers riding them. Agnus: a nation strong in ether, a magical technology. Their forces are built around units that specialise in ether combat, and they fight with small, mobile, autonomous weapons that use ether technology. Six soldiers hailing from these nations, will take part in a grand tale with life as its central theme. Noah: One of the protagonists of Xenoblade Chronicles 3 and a solider of Keves. Noah is also an "off-seer" who mourns for soldiers who've lost their lives on the battlefield. Lanz: An ally of Noah's who wields a great sword that doubles as a shield. Eunie: A childhood friend of Noah and Lanz who has a sharp tongue and rough personality. She specialises in healing her allies in battle. Mio: The other protagonist of this story, Mio is a soldier of Agnus and an off-seer like Noah. Taion: A tactician who fights alongside Mio using his smarts and insight. Sena: This soldier is an ally of Mio and Taion. Despite her petite figure, Sena wields immense physical strength!

3.

Shovel Knight Dig

When Drill Knight and his dastardly digging crew blast apart Shovel Knight's peaceful campsite and steal his loot, he grabs his trusty Shovel Blade and starts tunnelling after them. Meet new friends and foes, visit strange lands, and outfit yourself in your quest to keep the entire land from collapsing underfoot! Jump, slash, and dig your way down an ever-changing chasm of mystery in Shovel Knight Dig, an all-new Shovel Knight adventure!

4.

Two Point Campus

Welcome to the University of U. Build your university, your way. It's time to spin academia on its head! Got a yearning for learning? Or just keen to build an educational masterpiece? Campus is jam-packed with new creative tools to help you build the university of your dreams. For the first time, build in the great outdoors as you develop your own delightfully educational campus environment, housing the top teaching facilities in the land. Whether you prefer building on simple foundations, or placing every tree, you can build the university you want. Lay down pathways with new easy-to-use tools. Plant glorious collections of outdoor flora. Place benches, fountains, sculptures, hedgerows – even picket fences. The only limit is your imagination (and your in-game bank balance).

5.

Cuphead in the Delicious Last Course

Another helping of classic Cuphead action awaits you in Cuphead - The Delicious Last Course! Brothers Cuphead and Mugman are joined by the clever, adventurous Ms. Chalice for a rollicking adventure on a previously undiscovered Inkwell Isle! With the aid of new weapons, magical charms, and Ms. Chalice's unique abilities, players will take on a new cast of fearsome, larger than life bosses to assist the jolly Chef Saltbaker in Cuphead's final challenging quest!

6.

The Legend of Heroes: Trails from Zero

The Crossbell State, located in western Zemlya-- Once the site of fierce territorial battles, it has since developed into one of the continent's leading trade and financial centers. However, pressure from the Erebonian Empire and the Calvard Republic is steadily increasing. While corrupt officials from both sides remain locked in political disputes, the mafia and underground criminal organizations are preparing to start a war. In the midst of all this chaos, the Crossbell Police Department has lost the trust of its people. Among them are Lloyd Bannings, a rookie agent, Elie MacDowell, granddaughter of Crossbell's mayor, Tio Plato, a young sorcereress who wields an orbal staff, and Randy Orlando, a former security guard. The foursome are assigned to a new department, the Special Support Section, where they are left with no choice but to join forces in the face of adversity. This is a story about four unlikely heroes fighting to overcome the walls defining their way of life.

7.

Monster Hunter Rise: Sunbreak

Monster Hunter Rise: Sunbreak is an expansion to the original Monster Hunter Rise. Featuring improved gameplay and nimble-feeling additions to combat mechanics, unique new monsters and hunting locales, and a new difficulty level in the form of Master Rank quests. As the hunter who saved Kamura from calamity, you must now journey to the far-off reaches of Elgado, an outpost near a Kingdom beset by a sinister new nemesis—the elder dragon Malzeno! Kamura Village is finally at peace, having fought off an onslaught of monsters attacks known as the Rampage. That hard-earned peace is disrupted by the unexpected appearance of the wolf-like monster Lunagaron in the Shrine Ruins. In the Shrine Ruins, the hunter meets Fiorayne, a knight of the Royal Order. Fiorayne asks for the hunter's help in investigating why monsters from the Kingdom are becoming violently aggressive and invading other territories, including Kamura. United in mission, they set off for the far-off outpost of Elgado.

8.

Beacon Pines

Beacon Pines is a cute and creepy adventure set within a mysterious book. You play as both the reader of the book and its main character, Luka. Something strange is happening at the old warehouse, and Luka and his friends seem to be the only ones taking notice. Sneak out late, make new friends, uncover hidden truths, and collect words that will change the course of fate! As the book's reader, you'll navigate the story's turning points using The Chronicle: an interactive story tree that branches and grows along with your choices. Exploring one set of events can unlock new charms to use on another branch, leading you to jump back and forth between entirely different versions of the story in order to unravel the mysteries at the heart of Beacon Pines.

9.

Tinykin

Milo arrives on Earth to find that he's way too small, everybody's gone and a day hasn't passed since 1991! Catch hundreds of mysterious tinykin and use their unique powers to create ladders, bridges, explosions and a lot more! Find a way home through a sprawling ant-sized metropolis, and unravel Earth's biggest mystery!

10.

Easy Come Easy Golf

Golf-game developer Clap Hanz' latest work makes its Nintendo Switch™ debut. Play with friends, family, people from all over the world, or kick back and golf on your own! Earn new characters, costumes, and courses as you play rounds in the main mode, Tour Mode. Track your growth by improving your Best Score on each course! Hop online and participate in a World Tournament or Online Match. World Tournaments with set rules are hosted weekly, and players worldwide pull out all the stops to see who has the top score! Play rounds with players from all over the world, hassle-free, in Online Match. If private affairs are more up your alley, create password-protected rooms to hit the course with friends!