| The House in Fata Morgana - Dreams of the Revenants Edition - | Poison Control | SaGa Frontier Remastered |
| --- | --- | --- |
| | | |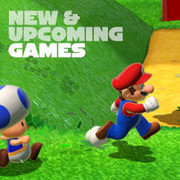 Find release dates, trailers, and scores for major upcoming and recent videogame releases for all platforms, updated weekly.
1.

The House in Fata Morgana - Dreams of the Revenants Edition -

A gothic suspense tale set in a cursed mansion. 'The House in Fata Morgana' is a full-length visual novel spanning nearly a millennium that deals in tragedy, human nature, and insanity. This version includes three games and more: 1: The House in Fata Morgana: the main storyline. 2: A Requiem for Innocence: a prequel shedding light on the origins of Fata Morgana's terrible curse. 3: Reincarnation: a sequel featuring the central cast members reincarnated in the present day. *The part including voices 4: Other additional short stories.

2.

Super Mario 3D World + Bowser's Fury

The cat's out of the bag, Super Mario 3D World is on to the Nintendo Switch system. Pounce and climb through dozens of colorful stages! Mario (and his friends) can use power-ups like the Super Bell, which grants catlike abilities, like climbing and scratching. Work together locally or online with up to three other players to reach the goaland to see who can get a high score. The Super Mario 3D World + Bowser's Fury game features the same great co-op gameplay, creative levels and power-ups as the original game, but also so much more.

3.

Monster Hunter Rise

Rise to the challenge and join the hunt. The action-RPG series returns to the Nintendo Switch! Set in the ninja-inspired land of Kamura Village, explore lush ecosystems and battle fearsome monsters to become the ultimate hunter. It's been half a century since the last calamity struck, but a terrifying new monster has reared its head and threatens to plunge the land into chaos once again. Hunt solo or in a party with friends to earn rewards that you can use to craft a huge variety of weapons and armor. Brand new gameplay systems such as the high-flying 'Wire Action' and your canine companion 'Palamute' will add exciting new layers to the already robust combat that Monster Hunter is known for. Whether it's at home, on the go, online or offline - you'll always be ready for your next hunt on the Nintendo Switch!

4.

Overcooked! All You Can Eat

Overcooked!, Overcooked! 2 and all additional content are blended together and remastered in this delicious definitive edition! Enjoy hundreds of levels of cooperative cooking chaos across increasingly perilous and obscure kitchens.

5.

Dead Cells: Fatal Falls

Gain a sharp and somewhat overprotective aerial ally as you fight through two new biomes and a boss! Challenging level designs will force you to rethink your approach in this new mid game content designed to add variety to your runs and continue support for the development of the game.

6.

Hatsune Miku Logic Paint S

Hatsune Miku puzzle game is here! Includes difficulty levels from LV1 to LV3 and special stages! When you clear the stage, you will get illustrations of Hatsune Miku! Clear many stages and collect gorgeous illustrations! !

7.

UnderMine

An action-adventure roguelike with a bit of RPG tossed in. Adventure deep into the UnderMine and discover powerful relics, deadly enemies, hidden secrets, and a few friends to help along the way. Delve deep into the UnderMine and discover its secrets, one peasant at a time! UnderMine is an action-adventure roguelike that blends combat and dungeon crawling with rpg-like progression. Mine gold, die, upgrade yourself, and try again! Discover hundreds of items including relics, potions, blessings, and curses that all combo and stack for a new experience every run. Challenge dangerous bosses and rescue helpful characters that provide new upgrades for your adventure. Decipher the cryptic messages of the Undermine's residents and unfold the mystery at the heart of the dungeon. Build Item Combos Discover relics, potions, prayers, blessings, and even curses to forge that perfect run. Watch as items pop off and combo with one another to make a god peasant of destruction. Rescue Characters Discover friendly (and some unfriendly) characters in need of rescue. After returning them safe to the mine's hub they will offer powerful upgrades that can be used from run to run. Discover Secrets Explore every nook and cranny to discover hundreds of secrets. New relics, potions, characters, and story bits lay behind the statues, rocks, and walls of each floor. Deadly Bosses Each area of the UnderMine contains one (or more!) deadly boss that will test planning, patience, strategy, and skill. Prepare well, because a test awaits! Wickedly Lighthearted UnderMine has a rich world to explore and discover with charming characters and a plot full of intrigue. Experience the plight of the poor Delvemore peasants. Told to brave extreme danger for a boss that doesn't quite care about them or their safety. A pretty funny situation when you think about it and something we can all relate to.

8.

Tadpole Treble Encore

Face the music in Tadpole Treble Encore, a charming, harmonious odyssey. The award-winning rhythm-based action game is coming to you! Featuring "some of the best video game music ever" according to Real Otaku Gamer, Tadpole Treble invites players to embark on a thrilling adventure through sheet music. Escape predatory piranhas, flirtatious admirers and more as you make your way back home. Or forge your own path—and songs—in the game's extensive Composition Mode.

9.

Little Nightmares II

Little Nightmares II is a suspense-adventure game in which you play as Mono, a young boy trapped in a world that has been distorted by a mysterious transmission from a distant signal tower. With Six, the girl in a yellow raincoat, Mono sets out to discover the dark secrets of The Signal Tower and save Six from her terrible fate; but their journey will not be easy as Mono and Six will face an array of new threats from the terrible residents of this world. Will you dare face this collection of new, little nightmares? PLAY A DARK, THRILLING, SUSPENSE ADVENTURE: A host of brand-new residents lie in wait to haunt your steps and disturb your sleep. Outsmart the sadistic teacher, survive the bloodthirsty hunter and flee from many more terrifying characters, as Mono and Six journey through this world together. DISCOVER A FANTASTICAL WORLD CORRUPTED BY THE SIGNAL TOWER: Escape a world that's rotten from the inside. Your journey will take you from creepy woodlands to sinister schools on your way to the dreadful Signal Tower. Find the source of the evil that spreads through the TV screens of the world. AWAKEN YOUR INNER CHILD TO SAVE SIX FROM THE DARKNESS: Six is fading from this world, and her only hope is to journey with Mono to find what has afflicted her from the Signal Tower. In this world of unknown terrors, you are her only beacon of hope. Can you gather up the courage to fend off your tormenters, and work with Six to make sense of The Signal Tower?

10.

SOLAS 128

SOLAS 128 takes place within a neon clockwork mechanism that is under attack. A strange external force has taken over, leaving disarray in its wake. Players must carefully repair the machine by learning how it works, and solving over 150 interlocking screens of puzzles. At its heart, SOLAS 128 is a beam deflection game with a difference. Instead of light beams, the game is built around distinct pulses which move in perfect sync with the unique, neon-soaked synthwave soundtrack. Players will need to reflect, collide, merge, split, and filter these pulses to explore the strange space, and reconnect the pathways that have been destroyed. Soon puzzles will start to spill across multiple screens, and they'll need to think big to orchestrate a solution for the game's damaged clockwork.