| Shin Megami Tensei V | Pokemon Brilliant Diamond | Grand Theft Auto: The Trilogy - The Definitive Edition |
| --- | --- | --- |
| | | |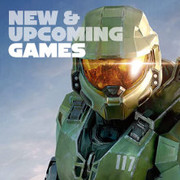 Find release dates, trailers, and scores for major upcoming and recent videogame releases for all platforms, updated weekly.
1.

Tetris Effect: Connected

Tetris Effect: Connected is the original Tetris Effect with all-new co-op and competitive online and local multiplayer modes. This is Tetris like you've never seen it, or heard it, or felt it beforean incredibly addictive, unique and breathtakingly gorgeous reinvention of one of the most popular puzzle games of all time.

2.

Cupid Parasite

A story about a cupid who ran away from her family after a fight to become the most successful bridal adviser in the human world. One day the heroine's boss calls her up for a job to find 5 hopeless guys (aka parasites) in desperate need of fixing their love life (and prolly their personalities in some cases).

3.

DUSK

DUSK -A retro FPS that looks and feels like the 90s. Inspired by Quake, Heretic, Hexen, Half-Life and Redneck Rampage.

4.

Death's Door

Reaping souls of the dead and punching a clock might get monotonous but it's honest work for a Crow. The job gets lively when your assigned soul is stolen and you must track down a desperate thief to a realm untouched by death - where creatures grow far past their expiry and overflow with greed and power. Talon Sharp Combat: Utilize melee weapons, arrows and magic to overcome a fantastic array of beasts and demigods. Mistakes are punished and victory is rewarded. Gain an edge by customizing your character stats and mastering the abilities and upgrades you obtain. A Beautifully Bleak World: Venture beyond the Doors and explore a land full of twisted inhabitants and countless secrets, bringing hope to the weird and wonderful characters you'll meet along the way. A Dark Mystery to Unravel: Track down and defeat colossal tyrants with stories and motivations of their own. Experience a somber yet darkly comedic tale, uncovering the truths behind the flow of souls, the role of the Crows and the origin of the Doors.

5.

Unsighted

The few androids that remain are running out of Anima, the energy that gives all robots consciousness. It's up to you, Alma, to save your friends from becoming Unsighted. Explore the vast ruins of Arcadia, using every tool you can find. Time is ticking. They need you.

6.

Metroid Dread

Join intergalactic bounty hunter Samus Aran in her first new 2D Metroid™ story in 19 years. Samus' story continues after the events of the Metroid™ Fusion game when she descends upon planet ZDR to investigate a mysterious transmission sent to the Galactic Federation. The remote planet has become overrun by vicious alien lifeforms and chilling mechanical menaces. Samus is more agile and capable than ever, but can she overcome the inhuman threat stalking the depths of ZDR? Face off against unrelenting E.M.M.I. robots Once DNA-extracting research machines, the imposing E.M.M.I. are now hunting Samus down. Tensions are high as you evade these E.M.M.I. to avoid a cruel death while finding a way to take them down. Find out what turned these robotic wonders into the scourge of ZDR and escape with your life. Feel Samus' power grow as you gain maneuvers and abilities Acquire new and familiar abilities as you traverse the many environments of this dangerous world. Parkour over obstacles, slide through tight spaces, counter enemies, and battle your way through the planet. Return to areas and use your new abilities to find upgrades, alternate paths, and a way forward. Explore the sprawling map, evade and destroy E.M.M.I. robots, and overcome the dread plaguing ZDR.

7.

Unpacking

Unpacking is a zen puzzle game about the familiar experience of pulling possessions out of boxes and fitting them into a new home. Part block-fitting puzzle, part home decoration, you are invited to create a satisfying living space while learning clues about the life you're unpacking.

8.

Shin Megami Tensei V

The ambitions of god and human clash amidst the horror of a dying world. Neither human nor demon, the newly-forged Nahobino and his friends must decide what is worth saving... and prepare to sacrifice everything in its name. In a world without its Creator, which path will you choose?

9.

Disco Elysium: The Final Cut

Disco Elysium - The Final Cut is the definitive edition of the smash-hit RPG. Pursue your political dreams in new quests, meet and question more of the city's locals, and explore a whole extra area. Full voice-acting, controller support, and expanded language options also included. Get even more out of this award-winning open world. You're a detective with a unique skill system at your disposal and a whole city block to carve your path across. Interrogate unforgettable characters, crack murders, or take bribes. Become a hero or an absolute disaster of a human being.

10.

Ruined King: A League of Legends Story

Rise Against Ruin. Unite a party of League of Legends Champions, explore Bilgewater and set sail for the Shadow Isles to uncover the secrets of the deadly Black Mist. Developed by Airship Syndicate and featuring the art style of legendary comic book artist Joe Madureira, creators of Battle Chasers and Darksiders, Ruined King: A League of Legends Story is the first Riot Forge game that invites you to explore the League of Legends universe. In this immersive turn-based RPG, you will have the freedom to configure your party and control an unlikely group of League of Legends champions, explore the bustling city of Bilgewater and the mysterious Shadow Isles, and experience the Lane Initiative System.