| Super Meat Boy Forever | Cyber Shadow | Scott Pilgrim vs. the World: The Game - Complete Edition |
| --- | --- | --- |
| | | |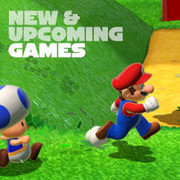 Find release dates, trailers, and scores for major upcoming and recent videogame releases for all platforms, updated weekly.
1.

Dicey Dungeons

Become a giant walking dice and battle to the end of an ever-changing dungeon! Can you escape the cruel whims of Lady Luck? In this new fast-paced deckbuilding roguelike from Terry Cavanagh, Chipzel, and Marlowe Dobbe, you'll fight monsters, find better loot, and level up your heroes as you work together to take down the Goddess of Fortune, Lady Luck herself. Balance your carefully planned strategies against the unknown of a dice roll. Play as six different characters, each with their own unique play styles and abilities. Master each class and figure out which one best fits your style in this charming world filled with a growing array of twists and secrets. Can you make it out alive? Maybe, but luck is definitely not on your side.

2.

Crimzon Clover - World EXplosion

Prepare yourself for an insatiable rain of bullets, bombs, and beams in Crimzon Clover. From Japanese indie developers YOTSUBANE and AdventurePlanningService, this unique top-down shooter is a wild ride you won't want to miss out on. Your first step in Crimzon Clover: World EXplosion is choosing how you want to play, as well as which powerful ship will be yours to command. Choose your version from ARCADE (true to the original arcade game), NOVICE (better if this is your first step into the world of hardcore shmuppage), or ARRANGED (a whole new can of worms with unique mechanics and novel challenges never seen before in the Crimzon Clover saga), then choose your mode from Boost, Original, Unlimited, and Time Attack. Original is THE main mode, where you blast your way through stages in search of the last boss. Boost Mode will adjust the difficulty based on how proficient you are at devastating your enemies. Unlimited turns each stage into an intense battlefield of bullets that only the most hardcore players will be able to survive. And Time Attack pits you against the clock as you race to earn the best score possible in about 3 minutes. Can you pilot your craft through the bullet massacre the enemies have prepared for you? Or will your ship become just another bump amidst the endless wreckage beneath your wings?

3.

Grindstone

Smash creeps to get huge combos and earn precious Grindstones in CAPY's hit puzzle-battler. Cash in your grindstones to craft new gear and overcome devious enemies, obstacles, and boss encounters as you conquer Grindstone Mountain's 200+ levels, and prove your prowess on the daily mode's leaderboards. Features: - Brutal Puzzle-Battle Action - 200+ Levels to conquer - Daily Challenges w/Leaderboards - Dozens of Weapons & Gear to Unlock - Award-Winning Soundtrack by Sam Webster

4.

Pikmin 3 Deluxe

No mission is too big for the tiny Pikmin. Touch down on a world of rich adventure with Pikmin 3 Deluxe for Nintendo Switch. Command a capable crop of tiny creatures and explore a hostile planet in this exciting blend of action and strategy. Use each Pikmin type's unique skills to overcome obstacles and open up a diverse world around you. Seek out valuable items, solve puzzles and overcome powerful creatures in a richly detailed world full of surprises. What's new? Whether you've played Pikmin 3 on Wii U or it's your first venture on planet "PNF-404", Pikmin 3 Deluxe comes packed with exciting new modes and features: * 2P co-op: Journey through the main story in two player co-op* on the same console! * New adventures: Go it alone or team up with a friend to take on brand new prologue and epilogue stories starring Pikmin and Pikmin 2 heroes Olimar and Louie! * Quality of life improvements: Expand your exploration with an enhanced lock-on targeting system, enemy balancing changes, multiple difficulty modes, optional hints and more. * Piklopedia: Unlock profile entries for each character and find out their unique perspectives on each creature you discover. Squad up! If you need a break from your plucky adventure, more fun awaits with returning additional modes. Get competitive with another player in Bingo Battle, or complete unique challenges alone or cooperatively in Mission Mode which includes all DLC from the Wii U version!

5.

Tadpole Treble Encore

Face the music in Tadpole Treble Encore, a charming, harmonious odyssey. The award-winning rhythm-based action game is coming to you! Featuring "some of the best video game music ever" according to Real Otaku Gamer, Tadpole Treble invites players to embark on a thrilling adventure through sheet music. Escape predatory piranhas, flirtatious admirers and more as you make your way back home. Or forge your own path—and songs—in the game's extensive Composition Mode.

6.

Cthulhu Saves Christmas

The master of insanity, Cthulhu, has lost his powers (again!?) and the only way he can get them back is by rescuing Santa Claus from the League of Christmas Evil in this prequel to Cthulhu Saves the World! Join Cthulhu, the Snow Maiden, Baba Yaga-chan, and Belsnickel as they build R'lyehtionships, fight the League of Christmas Evil, and catch the Christmas spirit! Fhtagn!

7.

No More Heroes

No More Heroes tells the story of Travis Touchdown, an anime fan who lives in the fictional town of Santa Destroy, California. After an unexpected turn of events, Travis finds himself at the bottom of an Assassins' organization. Travis will have to prove himself worthy and defeat 10 other bloodthirsty killers - all with deep stories of their own - to make his way to the top of the assassins league.

8.

Chicken Police - Paint it RED!

Sonny Featherland and Marty MacChicken were once legendary detective partners in Clawville PD. Predatory division, nicknamed as the Chicken Police. But that was a decade ago and time had passed them by... Sonny is a semi-alcoholic wreck of a bird on paid leave, while Marty still hides behind the facade of a star-detective. On the night of New Year's Eve, a mysterious woman visits Sonny with an errand which goes back to a dark corner of his past. Now, Sonny and Marty are back together again on a case stranger than anything they've ever encountered before! Chicken Police is an "Orwellesque Buddycop Noir Adventure", with a carefully crafted world, a gritty, dark story, and absurd humor. The game mixes elements of story-rich adventures with visual novel style dialogue-heavy storytelling, complete with a complex interrogation system, detective gameplay, and an ever-changing city.

9.

Among Us

An online and local party game of teamwork and betrayal for 4-10 players...IN SPACE! Play with 4-10 player online or via local WiFi as you attempt to prepare your spaceship for departure, but beware as one or more random players among the Crew are Impostors bent on killing everyone! Originally created as a party game, we recommend playing with friends at a LAN party or online using voice chat. Enjoy cross-platform play between Android, iOS and PC. THE CREW Objective: Fill Group Task Bar or Discover the Imposter! * Win by completing tasks to prepare the ship or ejecting all Impostors. * React quickly to undo the Impostor's sabotages. * Check the Admin map and Security cameras to keep tabs on other Crewmates. * Report any dead bodies immediately to start discussion of who the suspected Impostor is. * Call emergency meetings to discuss suspicious behavior. * Vote to eject suspected Impostors. THE IMPOSTER Objective: Kill Off the Crew! * Kill crewmates and frame bystanders. * Pretend to run tasks to blend in with the crewmates. * Sneak through the vents to quickly move about the ship. * Use sabotages to cause chaos and divide the crew. * Close doors to trap victims and kill in private. Features: * Customization: Pick your color and hat. * Lots of game options: Add more impostors, more tasks, and so much more! * Quickly find a game online from the host list. * In-game text chat. * Rich discord integration. * Cross-platform play between PC, Android, and iOS!

10.

Traffix

Traffix is the original traffic puzzle game. With simple rules and minimalist design, you'll help drivers drive through chaotic rush hours all over the world Control the traffic lights and help guide the drivers through various city highways like Paris, Tokyo, Istanbul or Las Vegas. Start fighting chaos all over the world!