| Watch Dogs: Legion | Assassin's Creed Valhalla | Yakuza: Like a Dragon |
| --- | --- | --- |
| | | |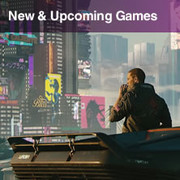 Find release dates, trailers, and scores for major upcoming and recent videogame releases for all platforms, updated weekly.
1.

Yakuza: Like a Dragon

RISE LIKE A DRAGON. Become Ichiban Kasuga, a low-ranking yakuza grunt left on the brink of death by the man he trusted most. Take up your legendary bat and get ready to crack some underworld skulls in dynamic RPG combat set against the backdrop of modern-day Japan.

2.

Supraland

A mix between Portal, Zelda and Metroid. Explore, solve puzzles, beat up monsters, find secret upgrades and new abilities that help you reach new places. Playtime 12-25h.

3.

Tony Hawk's Pro Skater 1 + 2

Drop back in with the most iconic skateboarding games ever made. Play Tony Hawk's Pro Skater & Tony Hawk's Pro Skater 2 in one epic collection, rebuilt from the ground up in incredible HD. All the pro skaters, levels and tricks are back and fully-remastered, plus more.

4.

Planet Coaster: Console Edition

Welcome to a new era in coaster park simulation! Bring your ideas to life with easy-to-use tools, manage all aspects of your expanding empire, and harness the world's best creations from an endlessly creative community in the Frontier Workshop.

5.

Welcome to Elk

Welcome to Elk is a biographical adventure set on an island like no other, where every character you encounter has a story to tell. From the weird and wonderful to the dark and desperate, all the tales told on Elk are based on true stories of life on the road less traveled.

6.

Stories Untold

Stories Untold is a compilation tape of four experimental text adventures, including a remaster of the original episode The House Abandon.

7.

Inertial Drift

Inertial Drift tears up the racing rule book with innovative twin-stick controls, completely re-imagined driving mechanics and a roster of fiercely individual cars.

8.

Lair of the Clockwork God

WHY PLAY ONLY ONE GENRE OF GAME when you could be playing two slightly different ones at the exact same time? BEN is a die-hard, old-school LucasArts Adventure fan. He has one foot stuck in the 90s, his feet never leave the floor, and he's happiest collecting any old junk he can lay his hands on, in the hopes of combining it all together to solve a satisfying puzzle. His cohort and sidekick DAN has aspirations to be the next big hit indie platform character. He's got everything he needs: he's hip, he's sensitive, and his nose is a different colour to the rest of his face. LAIR OF THE CLOCKWORK GOD sees you switching between both characters and using their unique abilities together in a race-against-time effort to stop all the Apocalypses happening simultaneously, by teaching an old computer about feelings. Solve classic point-and-click style puzzles as Ben to create unique upgrade items for Dan, so he can jump higher, run faster and blast away at everything with a shiny new gun. Then, run and jump as Dan to unlock new areas and exciting new puzzles for Ben!

9.

Port Royale 4

Set sail and join the colonial powers of Spain, England, France and the Netherlands in their fight for supremacy of the Caribbean in the 17th century. In 'Port Royale 4' you will take control of a colony as a young and ambitious governor, eager to learn what it takes to manage and grow their small settlement into a bustling trader city. Develop production chains connecting multiple islands and create complex trade routes across the Caribbean, covering the ever-growing needs of the respective cities. Make use of the detailed sea map to avoid stormy weather regions, cliffs or shallow waters. Fulfil tasks for your nation's viceroy, earning more fame to unlock town buildings, ships and more. Conquer the cities of rival nations or hunt down their fleets with a letter of marque while also keeping a keen eye out for pirates and other privateers. For the first time in the series, naval battles will be turn-based, with up to 8 ships battling at one time and tactical captain maneuvers that can turn the tide in even the most hopeless of situations for a glorious victory.

10.

Crash Bandicoot 4: It's About Time

The devious villains Neo Cortex and Dr. N. Tropy have finally escaped their interdimensional prison, leaving an evil scientist sized hole in the universe. Now they've got their eyes set on not only simply conquering this dimension, but ALL dimensions, and it's up to Crash and Coco to save the day. N. Sanity Beach is where Crash's adventure first started, and where it begins in Crash 4. But there have definitely been changes since players first saw N. Sanity Beach all those years ago, and throughout Crash 4 you'll notice changes to gameplay and even the art style.