| Elden Ring | Teenage Mutant Ninja Turtles: Shredder's Revenge | Weird West |
| --- | --- | --- |
| | | |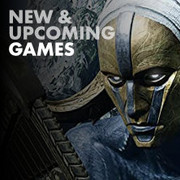 Find release dates, trailers, and scores for major upcoming and recent videogame releases for all platforms, updated weekly.
1.

RimWorld Console Edition

It's designed to co-author tragic, twisted, and triumphant stories about imprisoned pirates, desperate colonists, starvation and survival. It works by controlling the "random" events that the world throws at you. Every thunderstorm, pirate raid, and travelling salesman is a card dealt into your story by the AI Storyteller. There are several storytellers to choose from. Randy Random does crazy stuff, Cassandra Classic goes for rising tension, and Phoebe Chillax likes to relax. BUILD. DEFEND. EXPLORE The game generates a whole planet from pole to equator. You choose whether to land your crash pods in a cold northern tundra, a parched desert flat, a temperate forest, or a steaming equatorial jungle. Different areas have different animals, plants, diseases, temperatures, rainfall, mineral resources, and terrain. The challenges of surviving in a disease-infested, choking jungle are very different from those in a parched desert wasteland or a frozen tundra with a two-month growing season. ENDLESS COLONIST INTERACTION Your colonists are not professional settlers – they're crash-landed survivors from a passenger liner destroyed in orbit. You can end up with a nobleman, an accountant, and a housewife. You'll acquire more colonists by capturing them in combat and turning them to your side. So your colony will always be a motley crew.

2.

Cuphead in the Delicious Last Course

Another helping of classic Cuphead action awaits you in Cuphead - The Delicious Last Course! Brothers Cuphead and Mugman are joined by the clever, adventurous Ms. Chalice for a rollicking adventure on a previously undiscovered Inkwell Isle! With the aid of new weapons, magical charms, and Ms. Chalice's unique abilities, players will take on a new cast of fearsome, larger than life bosses to assist the jolly Chef Saltbaker in Cuphead's final challenging quest!

3.

Endling - Extinction is Forever

Will the last mother fox on Earth be able to save its three little cubs? Experience how life would be in a world ravaged by mankind through the eyes of the last fox on Earth in this eco-conscious adventure. Discover the destructive eect of the human race, which corrupts day after day the most precious and needed resources of the natural environments. Explore Endling's 3D side-scrolling world and defend your cubs, three tiny and defenseless fur balls, feed them, see how they grow up level after level, notice their unique personalities and fears, and most importantly, make them survive. Use the cover of night to sneak with your litter towards a safer place. Spend the day resting in an improvised shelter and plan for your next movement carefully since it could be the last one for you or your cubs.

4.

Train Valley: Console Edition

Build railroads in order to connect cities, tunnels and bridges. New railways are cheap when laid across bare fields, but can be expensive when demolishing forests, villages and other existing structures. Manage increasing traffic by constructing switches, sidings and spurs so that multiple trains can run without delays, at the same time. Stay accident-free by precisely controlling trains during crucial moments, using pause for planning (you can build railways and schedule trains while on pause). Play through 5 seasons: Europe (1830–1980), America (1840–1960), USSR (1880–1980), Japan (1900–2020) and Germany (1830-2020). Complete the story mode featuring such real-life events as the Gold Rush of 1849, the construction of the Florida Overseas Railroad, World War II, the Cold War, the launch of the first manned space flight Vostok 1, the fall of the Berlin Wall and more. Explore the game in different game modes: in story mode (5-10 minutes), in random mode (15-20 minutes – the level looks and develops differently every time you launch) or in sandbox-like mode (can be turned on for both story and random modes. It allows you to play without time and money limits). Discover 30 types of trains – from early steam-powered locomotives to modern high-speed trains, driving 18 types of cars – from old-time passenger cars to hoppers and cisterns and to military-use tank and gun platforms.

5.

Capcom Arcade 2nd Stadium

Included Games: 1943 Kai Black Tiger Block Block Capcom Sports Club Darkstalkers: The Night Warriors Eco Fighters Gan Sumoku (GunSmoke) Hissatsu Buraiken (Avengers) Hyper Dyne Side Arms Hyper Street Fighter II: The Anniversary Edition Knights of the Round Last Duel Magic Sword Mega Man: The Power Battle Mega Man 2: The Power Fighters Night Warriors: Darkstalkers' Revenge Pnickies Rally 2011 LED Storm Saturday Night Slam Masters Savage Bees (Exed Exes) SonSon Street Fighter Street Fighter Alpha: Warriors' Dreams Street Fighter Alpha 2 Street Fighter Alpha 3 Super Gem Fighter Mini Mix Super Puzzle Fighter II Turbo The King of Dragons The Speed Rumbler (Rush & Crash) Three Wonders Tiger Road Vampire Savior: The Lord of Vampire

6.

Midnight Fight Express

A former member of the criminal underworld is lured back into "the life" by a mysterious drone claiming they have until sunrise to prevent a citywide criminal takeover together.

7.

Adventures of Chris

Embark on a global adventure in this '90s-inspired adventure platformer. Help a chubby underdog kid with wacky superpowers battle bizarre villains, unlock and customize special moves and spells, and save the world!

8.

Digimon Survive

Digimon Survive presents a hybrid visual novel and tactical RPG set in a mysterious world filled with dangerous monsters and deadly battles that will test your ability to survive. After getting lost on a school trip, Takuma Momozuka finds himself transported to a world inhabited by ferocious foes and new allies. Join Takuma and his friends as they fight their way back home. Craft your story in this thrilling visual novel with turn-based combat. Key Features: Rich Visual Novel Experience – Unfold a dark tale about friendship and survival that is jam-packed with exciting drama, a unique cast of characters, and potentially grim choices. A Mysterious World – Explore otherworldly areas filled with hidden secrets and Digimon to recruit. The Power Is Yours – Your choices affect gameplay: your bond with other NPCs, your Digimon's evolution, and the outcome of your adventure. Thrilling & Strategic Gameplay – Persuade your opponents to join your team and evolve them to fight alongside you in battles thrilling turn-based battles.

9.

Eternal Hope

In Eternal Hope you'll follow the story of Ti'bi, a lonely boy who has lost the love of his life. You'll embark with him on a highly unusual journey - one that might bring the soul of his cherished girlfriend back from the Shadow World, a purgatory-like realm. But visiting this new world will not be easy. There will be dangers to overcome and many mysteries to unearth before you can continue your passage. Granted the ability to shift between dimensions by the Keeper of Souls, this power will enable Ti'bi to travel, solve puzzles and meet otherworldly beings that live among the shadows. Travel with Ti'bi into the great beyond on this journey as you unravel ancient secrets not meant for the eyes of the living.