| King's Bounty II | NieR Replicant ver.1.22474487139... | Samurai Warriors 5 |
| --- | --- | --- |
| | | |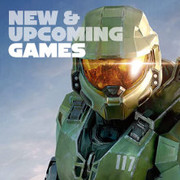 Find release dates, trailers, and scores for major upcoming and recent videogame releases for all platforms, updated weekly.
1.

Psychonauts 2

Razputin Aquato, trained acrobat and powerful young psychic, has realized his life long dream of joining the international psychic espionage organization known as the Psychonauts! But these psychic super spies are in trouble. Their leader hasn't been the same since he was kidnapped, and what's worse, there's a mole hiding in headquarters. Raz must use his powers to stop the mole before they execute their secret plan--to bring the murderous psychic villain, Maligula, back from the dead.

2.

The Forgotten City

The Forgotten City is a mystery adventure game of exploration and deduction. Travel 2,000 years into the past and relive the final days of a cursed Roman city, where if one person sins, everyone dies. Combat is an option, but violence will only get you so far. Only by questioning an intertwined community of colourful characters, cleverly exploiting the time loop, and making difficult moral choices can you hope to solve this epic mystery. Here, your decisions matter. The fate of the city is in your hands.

3.

UnMetal

In 1972 a crack commando squad threw you in prison for a crime you didn't commit. You promptly escaped from a maximum-security stockade to the underground trying to survive from these soldiers of fortune. UnMetal is a 2D stealth/action game (with a bit of humor) where the goal is to escape from an enemy military base. But what started as a simple break out ended up being an inside operation to prevent a massive attack against the NATO. You play as Jesse Fox who finds himself imprisoned in a covert military base where he was arrested for a crime he didn't commit. Jesse must now escape using his dry wits, quick words, improvised skills, arsenal of warfare, violent explosives, MacGuyvered gadgets, and an elaborate explanation of how it all went down. If that all fails, he'll use his fists. * Uncover a clandestine plot as you escape from an enemy base where you were imprisoned for a crime you didn't commit. * Modern gameplay mechanics that pay homage to a solid classic. * Gain experience and skills by utilizing stealth to take down your enemies. * Deceive, adapt, and do whatever is necessary to escape even if you have to impersonate a cat. * Enjoy the thrill of interrogation as you elaborate specifics of your great escape to a lieutenant who seeks to scrutinize Jesse's every word in an intricate report. * Decipher a plethora of satirical culture, gaming and movie references. You'll laugh, you'll cry and you'll fall in love with them. * Collect an arsenal of classic gear, things that go "pew-pew", maybe a thing or two that goes "BOOM!", and some things that go "BOING!", and definitely a thing that goes "SCRATCH". * Does this smell like chloroform to you?

4.

Sam & Max Save the World Remastered

Sam is a six-foot canine detective with a love of justice. Max is a hyperkinetic rabbity-thing with a taste for mayhem. Together, they're the Freelance Police. And they're about to save the world. It's just another day at the office for the self-proclaimed Freelance Police when the Commissioner calls in with a disturbing report: former child stars are running amok in the street! What starts as an open-and-shut case of idiotic vandalism balloons into an all-out conspiracy as Sam and Max encounter one miscreant after another who have been mysteriously hypnotized. (You can tell from the "spinny thing" they do with their eyes.) Return to the adventure game that was once called "gaming's first sitcom" and is today known as "the remaster you didn't know you were waiting for." With enhanced graphics, an original jazz score with five new tracks, and the same brain-tickling puzzles and offbeat humor that won it IGN's Best Adventure GOTY award back in the day, Sam & Max Save the World Remastered is a modern classic that will be right at home in your library.

5.

Insurgency: Sandstorm

Insurgency: Sandstorm is a team-based, tactical FPS based on lethal close quarters combat and objective-oriented multiplayer gameplay. Experience the intensity of modern combat where skill is rewarded, and teamwork wins the fight.

6.

Chernobylite

Chernobylite is a new game from the creators of the critically-acclaimed Get Even. It's a science-fiction survival horror experience, mixing the free exploration of its disturbing world with challenging combat, unique crafting, and non-linear storytelling. Play as a physicist, one of the Chernobyl Power Plant's ex-employees, and investigate the mysterious disappearance of your beloved. Try to survive and reveal the contamination zone's twisted secrets. Remember, the military presence is not your only concern. Get ready for a thrilling adventure of survival, conspiracy, horror, love, and obsession. One that will prove to you that it's not about how you face your fears, it's about how you survive them. SURVIVE Ally or compete with other stalkers of the Chernobyl zone to survive. Remember that life is fragile, and it's your decisions that determine the fate of your companions. You can spend as long as you need preparing, however, be aware that your story is still being written. Every passing moment, your chances of success are dwindling: comrades are dying, supplies are running out, or an unexpected patrol could discover you. And on top of all this, supernatural dangers are arising around you in mysterious patterns. Each day brings new challenges with the ever-increasing severity of your current situation. Plan your strategy carefully if you want to survive. PLAY BY YOUR OWN RULES Craft your gear and weapons to protect yourself from the hostile military personnel and supernatural threats lurking in the zone. Make use of the sophisticated tools at your disposal to aid you in your struggle while navigating the rough and contaminated environment. Stay undetected and gather all the evidence you can to piece together events from the past. Decide what happens in the world around you by making choices and finding, or avoiding, the truth. EXPERIENCE Maintain your resolve and keep your wits about you the Chernobyl Nuclear Power Plant is not what it once was. No one can foresee the horrors that may have befallen your beloved. CHERNOBYLITE MAIN FEATURES: * Explore the beautiful and horrifyingly accurate 3D-scanned recreation of the Chernobyl Exclusion Zone. * Collaborate or compete with other stalkers of the Zone, but whatever you do, never fully trust them. Remember everybody has a hidden agenda. Always. * Face and survive the natural and supernatural threats. * Immerse yourself in the thrilling non-linear science-fiction horror story. * Make good use of your character's physics and chemistry knowledge to craft your equipment and manage your supplies. * Fight against the savage creatures pouring from the alternate reality. * Investigate and collect data with a set of sophisticated environment and substance analyzing tools.

7.

Crysis Remastered Trilogy

The classic first person shooter from Crytek is back with the action packed gameplay, sandbox world, and thrilling epic battles you loved the first time around. Crysis Remastered Trilogy includes each of the single player campaigns from the legendary first person shooters Crysis, Crysis 2, and Crysis 3, optimized for today's hardware. Relive the adventure in this great value all in one bundle. Features: * Crysis Remastered: What begins as a simple rescue mission becomes the battleground of a new war as alien invaders swarm over a chain of Lingshan islands. Playing as super soldier Nomad, you are armed with a powerful Nanosuit equipped with Speed, Strength, Armor, and Cloaking abilities. Use avast arsenal of modular weaponry and adapt your tactics and gear to dominate enemies in an enormous sandbox world. * Crysis 2 Remastered: Aliens have returned to a world ravaged by climate disasters. As the invaders lay waste to New York and begin an assault that threatens the total annihilation of humankind, only you have the technology to lead the fightback. Equipped with the upgraded Nanosuit 2.0, customize your suit and weapons in real time and unlock powerful new abilities in the battle for humanity's survival. * Crysis 3 Remastered: Returning to the fight as super soldier Prophet, the search for the alien Alpha Ceph continues, but now you must also expose the truth behind the C.E.L.L. corporation, which has turned New York City into a sprawling urban rainforest sheltered by a giant nanodome. Fight through seven distinct districts and decimate your opponents in a blaze of brute force using the Nanosuit's superior technology, or use stealth to achieve your goals and become humanity's silent savior. Equipped with your powerful and deadly new Predator Bow, there's no wrong way to save the world.

8.

Flynn: Son of Crimson

Help Flynn and his mythical companion Dex save Rosantica before the evil from The Scourge claims his home. In Flynn: Son of Crimson, you'll go on a journey of discovery and conflict as you learn to master the power of Crimson Energy.

9.

Crown Trick

Crown Trick is a beautifully animated rogue-like RPG adventure characterized by turn-based combat and skill-item interactive strategy. Enter a labyrinth that moves as you move, where mastering the elements is key to defeating enemies and uncovering the mysteries of this underground world. With a new experience awaiting every time you enter the dungeon, let the power bestowed by the crown guide you in this challenging adventure!

10.

The Artful Escape

The Artful Escape of Francis Vendetti is a video game about great expectations, famous folk singers, lingering shadows, space Gods, hallucinogens, individuality, reptile shops, and wild imaginations. It's an action, adventure, exploration, narrative driven, musical-laser-light-battle kind of game.