| Let the Bad Times Roll | The Battle at Garden's Gate | ULTRAPOP |
| --- | --- | --- |
| | | |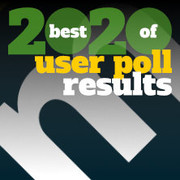 Over 2,800 Metacritic users have submitted their favorite albums, movies, games, and TV shows of 2020. Here's what they picked.
1.

Vol. 4 [Super Deluxe Edition] [Box Set] - Black Sabbath

The remaster of the British heavy metal band's 1972 album includes previously unreleased studio outtakes, alternative takes, false starts, and 16 live tracks from several concerts from March 1973.

2.

Conflict Of Interest - Ghetts

The third full-length studio release for the British grime artist features guest appearances from BackRoad Gee, Dave, Giggs, Hamzaaand, Jaykae, Aida Lae, Miraa May, Pa Salieu, Emeli Sande, Moonchild Sanelly, Ed Sheeran, Skepta, Stormzy, and Wretch 32.

3.

77-81 [Box Set] - Gang of Four

The four-disc box set for the British bands punk band features remasters of 1979's Entertainment! and 1981's Solid Gold; a disc of singles; the unreleased concert recorded in San Francisco in May 1980, Live at the American Indian Center; and a 100-page book. The LP edition also includes a cassette tape that features demos, outtakes and rare tracks.

4.

Start Walkin' 1965-1976 - Nancy Sinatra

The 23-track collection features remastered songs from the pop singer's career between 1965–1976 including her collaboration with Lee Hazlewood.

5.

Carnage - Nick Cave & Warren Ellis

The surprise release for the latest full-length collaboration between Nick Cave and Warren Ellis was recorded over a week.

6.

They're Calling Me Home - Rhiannon Giddens

The second full-length release from Rhiannon Giddens with Francesco Turrisi was recorded over six days in Ireland during the COVID-19 pandemic.

7.

For Those I Love - For Those I Love

This is the debut full-length release for the solo project of Dublin-based producer David Balfe.

8.

Ignorance - The Weather Station

The fifth full-length studio release Tamara Lindeman project was co-produced with Marcus Paquin, who also mixed the record.

9.

Dream Weapon - Genghis Tron

The third full-length release for the New York metal band is its first in over 12 years and features Tony Wolski as its new lead singer.

10.

An Overview on Phenomenal Nature - Cassandra Jenkins

The second full-length solo release for the New York folk artist was produced by Josh Kaufman.