| Dance Fever | Mr. Morale & The Big Steppers | A Light for Attracting Attention |
| --- | --- | --- |
| | | |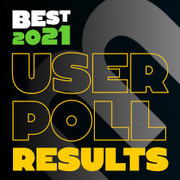 The results of our 12th annual poll are in! Find out which games, movies, TV shows, and albums topped our users' best of 2021 lists.
1.

Motomami - Rosalía

The third full-length release for Spanish singer-songwriter Rosalía features guest appearances from Tokischa and The Weeknd.

2.

Feeding the Machine - Binker & Moses

The latest full-length release for British free jazz duo Binker & Moses was recorded by producer Hugh Padgham.

3.

Mr. Morale & The Big Steppers - Kendrick Lamar

The fifth full-length studio release for rapper Kendrick Lamar features guest appearances from Baby Keem, Blxst, Sam Dew, Ghostface Killah, Beth Gibbons of Portishead, Kodak Black, Tanna Leone, Taylour Paige, Amanda Reifer, Sampha, and Summer Walker.

4.

Forever on My Mind - Son House

The previously unreleased recordings from Delta blues artist Son House were recorded by manager/historian Dick Waterman and restored by producer Dan Auerbach.

5.

This Is a Photograph - Kevin Morby

The seventh full-length solo release for singer-songwriter Kevin Morby was produced by Sam Cohen and was inspired in part by old family photographs he looked at after his father had a heath scare.

6.

For You Who Are the Wronged - Kathryn Joseph

The third full-length solo release for Scottish singer-songwriter Kathryn Joseph was co-produced with Lomond Campbell.

7.

Live at the El Mocambo - The Rolling Stones

The two-disc release from The Rolling Stones features the official recording of two secret 1977 shows at Toronto's 300-capacity The El Mocambo club, including the full set from the second show.

8.

Electricity - Ibibio Sound Machine

The fourth full-length release for Nigerian Afro-funk electronic band Ibibio Sound Machine was produced by Hot Chip.

9.

Wet Leg - Wet Leg

The debut full-length release for the Isle Of Wight indie rock duo Wet Leg was produced and recorded by Dan Carey except for two tracks produced by Jon McMullen ("Chaise Longue") and Josh Mobaraki ("Angelica").

10.

It's Almost Dry - Pusha T

The fourth full-length studio release for rapper Push T features guest appearances from Jay-Z, Kid Cudi, Labrinth, Lil Uzi Vert, Malice, Don Toliver, Pharrell Williams, and Ye.