| Everything Not Saved Will Be Lost, Pt. 2 | Pang | War Music |
| --- | --- | --- |
| | | |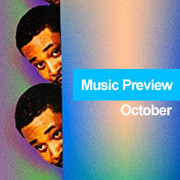 Listen to tracks from all of the key albums due out in October, including new music from Danny Brown, Wilco, Nick Cave, Angel Olsen, Elbow, Kim Gordon, Neil Young, and more.
1.

Abbey Road [50th Anniversary Deluxe Edition] - The Beatles

The 50th Anniversary release of the Beatles 1969 album features stereo mixes by Giles Martin and Sam Okell and a disc of demos and session outtakes. A super deluxe includes an additional disc of demos and session outtakes, a coffee table book, and a Blu-ray disc of the Dolby Atmos, 5.1 surround and his-res stereo mixes of the album.

2.

Ghosteen - Nick Cave & the Bad Seeds

The 17th full-length studio release for Australian rock band is influenced in part by the accidental death of Nick Cave's 15-year old son in 2015 and is considered the third and final part of trilogy of albums that includes 2013's Push the Sky Away and 2016's Skeleton Tree.

3.

Jimmy Lee - Raphael Saadiq

The first full-length release of new material from the R&B artist/producer was inspired by his late brother's struggle with drug addiction and features guest appearances from Rob Bacon, Reverend E. Baker, Ernest Turner, and Daniel J. Watts.

4.

Eve - Rapsody

The third full-length studio release for the North Carolina rapper features guest appearances from J. Cole, D'Angelo, GZA, JID, Leikeli47, Mereba], PJ Morton, Queen Latifah, K.Roosevelt, SiR, and Elle Varner.

5.

War Music - Refused

The fifth full-length studio release for the Swedish hardcore punk band was produced by Martin Ehrencrona.

6.

We Are Not Your Kind - Slipknot

The sixth full-length studio release for the metal band was produced by Greg Fidelman.

7.

All Mirrors - Angel Olsen

The fourth full-length studio release from the North Carolina-based indie folk singer-songwriter features arrangements and production by Ben Babbitt, Jherek Bischoff, and John Congelton.

8.

Jaime - Brittany Howard

The debut full-length solo release for the Alabama Shakes frontwoman features contributions from Zac Cockrell, Shawn Everett, Robert Glasper, and Nate Smith.

9.

For You and I - Loraine James

The second full-length release for the British electronic producer features a guest appearance from Le3 bLACK.

10.

Norman Fucking Rockwell! - Lana Del Rey

The sixth full-length release for the pop singer-songwriter was produced with Jack Antonoff and features contributions from Louis Bell, Zach Dawes, Rick Nowels, and Andrew Watt.