| Cool It Down | The End, So Far | Fossora |
| --- | --- | --- |
| | | |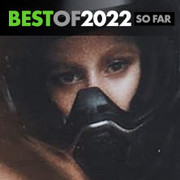 Here are the 20 best-reviewed albums released during the first half of 2022, ranked by Metascore.
1.

Against the Odds 1974-1982 [Box Set] - Blondie

The box set features 52 (36 previously unreleased) tracks of session outtakes, B-sides, and demos (with the eight CD and 10 LP deluxe editions adding remastered versions of Blondie's first six studio albums and books).

2.

Renaissance - Beyoncé

The first new studio album for Beyoncé since 2016's Lemonade features contributions from 070 Shake, A.G. Cook, Mike Dean, Drake, Jay-Z, Labrinth, Skrillex, Tems, The-Dream, and The Neptunes.

3.

I Love You Jennifer B - Jockstrap

The debut full-length release for London-based duo Jockstrap was created over three years.

4.

Florist - Florist

The fourth full-length release for indie folk band Florist was created while staying in a rented Hudson Valley house in June 2019.

5.

Natural Brown Prom Queen - Sudan Archives

Race, womanhood and relationships are some of themes on the second full-length release for Los Angeles-based violinist/singer Sudan Archives.

6.

Riderless Horse - Nina Nastasia

Produced with Steve Albini and Greg Norman, the seventh full-length release for singer-songwriter Nina Nastasia was influenced by her dysfunctional relationship with manager/partner Kennan Gudjonsson and his suicide in 2020.

7.

In These Times - Makaya McCraven

The latest full-length release for Chicago-based jazz composer/producer Makaya McCraven features contributions from Marquis Hill, Jeff Parker, Junius Paul, Joel Ross, and Brandee Younger.

8.

The Hardest Part - Noah Cyrus

The debut full-length release for actress/singer-songwriter Noah Cyrus features a guest appearance from Death Cab For Cutie's Benjamin Gibbard and was produced by Mike Crossey.

9.

Colder Streams - The Sadies

The 11th full-length studio release for Canadian alt-country band The Sadies was produced by Arcade Fire's Richard Reed Parry and was the final album with guitarist Dallas Good, who passed away in February 2022.

10.

God's Country - Chat Pile

The debut full-length release for Oklahoma City noise rock band Chat Pile was self-produced.