| i/o | Rat Wars | Before and After |
| --- | --- | --- |
| | | |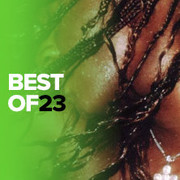 We rank the 20 highest-scoring albums released during the first half of 2023.
1.

Tim: Let it Bleed Edition [Box Set] - The Replacements

The deluxe reissue of The Replacements' 1985 album Tim includes a new mix by Ed Stasium, 50 previously unheard tracks and the entire January 1986 concert at Chicago's Cabaret Metro.

2.

Who's Next/Life House [Super Deluxe Edition] - The Who

The 11-disc super edition of the reissue of The Who's 1971 album Who's Next includes 22 demos from the unreleased Life House project, the 1971 session recordings at New York's Record Plant; Olympic Studios sessions from 1970-1972; live recordings of the April 1971 concert at London's Young Vic, and the December 1971 concert at San Francisco's Civic Auditorium.

3.

Black Rainbows - Corinne Bailey Rae

The first full-length release since 2016's The Heart Speaks In Whispers from British singer-songwriter Corinne Bailey Rae was inspired by the exhibits she saw at the Stony Island Arts Bank.

4.

Joni Mitchell Archives, Vol. 3: The Asylum Years 1972-1975 [Box Set] - Joni Mitchell

The third box set of unreleased material from Joni Mitchell includes demos, recording sessions with Graham Nash, David Crosby and Neil Young, and the entire live recording of her performance at Carnegie Hall in 1972.

5.

1989 (Taylor's Version) - Taylor Swift

The re-recording of Taylor Swift's 2014 album 1989 includes five unreleased tracks.

6.

The Land Is Inhospitable and So Are We - Mitski

The latest full-length release from Mitski recorded in Nashville and Los Angeles by producer Patrick Hyland includes an orchestra arranged and conducted by Drew Erickson and a 17-person choir.

7.

Black Bayou - Robert Finley

The songs on the fourth full-length release from Louisiana blues artist Robert Finley were created while it was recorded in Nashville with producer Dan Auerbach.

8.

Sanguivore - Creeper

The third full-length release from British goth punk band Creeper is a concept album about vampires.

9.

Valley of Heart's Delight - Margo Cilker

The second full-length release from Oregon-based singer-songwriter Margo Cilker was produced by Sera Cahoone.

10.

Lahai - Sampha

The second full-length release from British singer-songwriter/producer Sampha features a guest appearance by Léa Sen.