| A Hero's Death | Such Pretty Forks in the Road | B7 |
| --- | --- | --- |
| | | |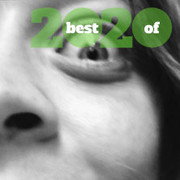 We rank the 20 highest-scoring album releases from the first half of 2020.
1.

Rough and Rowdy Ways - Bob Dylan

The first new studio release of new music for the singer-songwriter in eight years.

2.

Summerlong - Rose City Band

The second full-length release for the music project for Wooden Shjips/Moon Duo's Ripley Johnson was mixed by John McEntire.

3.

Obsidian - Paradise Lost

The 16th full-length studio release for the British gothic metal band was produced by Jaime Gomez Arellano.

4.

Set My Heart on Fire Immediately - Perfume Genius

The fifth full-length release for Mike Hadreas as Perfume Genius was produced with Blake Mills.

5.

Punisher - Phoebe Bridgers

The second full-length solo release for the singer-songwriter features contributions from Julien Baker, Lucy Dacus, Christian Lee Hutson, Jim Keltner, Warpint's Jenny Lee Lindberg, Blake Mills, Conor Oberst, Bright Eyes' Nathaniel Walcott, and the Yeah Yeah Yeahs' Nick Zinner.

6.

Sex, Death & The Infinite Void - Creeper

The second full-length release for the British punk rock band led by Will Gould was produced by Xandy Barry.

7.

græ - Moses Sumney

The double album (released also as two separate EPs] for the experimental artist features a guest appearance from Jill Scott and elements of folk, jazz, indie rock, pop, and soul music.

8.

RTJ4 - Run the Jewels

Released a few days early (for free on their website), the fourth full-length studio album for the rap duo features guest appearances from 2 Chainz, Zack de la Rocha, DJ Premier, Josh Homme, Greg Nice, Mavis Staples, and Pharrell Williams.

9.

Women in Music, Pt. III - HAIM

The third full-length release for the Los Angeles trio of sisters was produced with Rostam Batmanglij, Ariel Rechtshaid and Buddy Ross.

10.

Folklore - Taylor Swift

The 16-track surprise release from the pop artist features contributions from Jack Antonoff, Bon Iver, William Bowery, and Aaron Dessner of the National.