| Protean Threat | Tea for the Tillerman 2 | Alicia |
| --- | --- | --- |
| | | |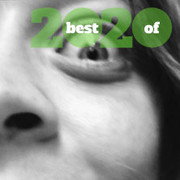 We rank the 20 highest-scoring album releases from the first half of 2020.
1.

Sex, Death & The Infinite Void - Creeper

The second full-length release for the British punk rock band led by Will Gould was produced by Xandy Barry.

2.

Women in Music, Pt. III - HAIM

The third full-length release for the Los Angeles trio of sisters was produced with Rostam Batmanglij, Ariel Rechtshaid and Buddy Ross.

3.

Folklore - Taylor Swift

The 16-track surprise release from the pop artist features contributions from Jack Antonoff, Bon Iver, William Bowery, and Aaron Dessner of the National.

4.

Inlet - Hum

The fifth full-length release for the Illinois alternative rock band was a surprise release.

5.

Microphones in 2020 - The Microphones

The first album in 17 years for Phil Elverum under the name The Microphones features one track that is nearly 45 minutes long.

6.

Pain Olympics - Crack Cloud

The latest release for the post-punk Canadian collective was self-produced.

7.

Dry - Demos - PJ Harvey

This is the stand-alone release of the demos of the British singer-songwriter's debut full-length album (it had been previously released as part of a limited edition of the 1992 album).

8.

Use Me - PVRIS

The third full-length release for the Massachusetts band led by Lynn Gunn was produced with JT Daly.

9.

Beyond the Pale - Jarv Is...

This is the debut full-length release for the band that includes Pulp's Jarvis Cocker, Serafina Steer, Emma Smith, Andrew McKinney, Jason Buckle and Adam Betts.

10.

Kitchen Sink - Nadine Shah

The fourth full-length release for the British singer-songwriter was produced by Ben Hillier.